IHBC launch Conservation Wiki
In a bold move to put building and historic environment conservation at the forefront of digital collaboration, the Institute of Historic Building Conservation (IHBC) has today launched a knowledge-sharing platform for built and historic environment conservation that is the first of its kind.
---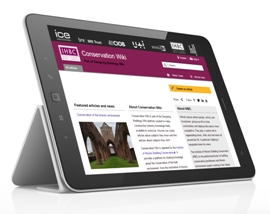 The free-to-use, open-access platform is the first expert portal to be created on Designing Buildings Wiki, the world-leading construction industry knowledge base. Conservation Wiki http://www.designingbuildings.co.uk/wiki/Conservation_wiki is a specially-designed, self-contained site led by the IHBC within Designing Buildings Wiki.
Conservation Wiki has launched with 100 articles already available on subjects ranging from adapting semi-detached dwellings to reduce summer overheating, to VAT Policy for historic buildings. It is also linked to 3,500 articles on Designing Buildings Wiki, making it part of a truly comprehensive resource. The IHBC is now calling on conservation professionals to upload their expertise to help the site expand, making conservation knowledge freely available to everyone.
IHBC Director Dr Sean O'Reilly said, "Conservation Wiki is a collaborative resource that everyone can use and improve. We are calling on anyone with conservation expertise or specialist interest to add to the site to help spread best practice, promote innovation and prevent mistakes. Don't leave your knowledge gathering dust on your hard drive, add it to Conservation Wiki, improve the industry and raise your own profile at the same time."
Dr Gregor Harvie, co-founder of Designing Buildings Wiki said, "The IHBC is leading the way with the creation of Conservation Wiki. We hope it will be the first of many special interest areas on Designing Buildings Wiki. Piggy-backing on our platform gives IHBC access to our established audience of 10,000 users a day, as well as thousands of existing articles."
---
About the IHBC
The Institute of Historic Building Conservation (IHBC) http://www.ihbc.org.uk is the professional body for building conservation practitioners and historic environment experts in the UK. It establishes, develops and maintains the highest standards of conservation practice, to support the effective protection and enhancement of the historic environment, and to promote heritage-led regeneration and access to the historic environment.
---
About Conservation Wiki
Conservation Wiki is operated by the Institute of Historic Building Conservation. It provides a platform for sharing knowledge about the conservation of the built and historic environment, from the restoration of cathedrals to the management of conservation areas and retrofitting period, traditional and modern properties to improve their performance.
Where there are articles on Conservation Wiki that are owned and maintained by the IHBC, they are protected from editing by others, and linked to their original source on the IHBC website. Comments on these articles can be emailed to IHBC's Support Officer Carla Pianese, at [email protected]. Other articles on Conservation Wiki do not necessarily reflect IHBC policy or practice.
Conservation Wiki is a publicly accessible service and the IHBC encourages practitioners to populate it with relevant content as well as to contribute to the development of existing articles. Where appropriate these contributions may be used to inform IHBC policy and practice.
---
About Designing Buildings Wiki
Designing Buildings Wiki http://www.designingbuildings.co.uk is the free, cross-discipline knowledge base for the construction industry. Anyone can create articles about subjects they know and find articles about subjects they don't. It covers everything from site acquisition and design through to construction and facilities management.
Designing Buildings Wiki is supported by; The Institution of Civil Engineers, Rogers Stirk Harbour + Partners, The Chartered Institute of Building, the IHBC, U and I Group PLC, BRE Trust and BSRIA.
IHBC NewsBlog
Last chance to submit for IHBC Student Award 2018
The Gus Astley Student Award closes on 31 July, so if you have relevant coursework submit it online to have a chance to win £500 and a place at Belfast2018.
---
IHBC 2017 Annual School tour features in Liverpool Echo
Among the most enjoyable of the huge variety of tours at the IHBC's Manchester 2017 Annual School was the visit to Liverpool as featured in the Liverpool Echo of 16 July.
---
IHBC on Intervention - SkillBuild competition highlights best in construction crafts
The 'SkillBuild' competition sees the very best in construction talent compete against each other in local heats across the country culminating in the Final at the NEC Birmingham.
---
Civic Voice Design Awards 2017 announced
11 awards to schemes and projects across England were handed out at an event at The Leadenhall Building, London attended by community groups and industry professionals.
---
All Party Parliamentary Group inquiry into the impact of Brexit on future skills
The fifth Inquiry from the APPG for Excellence in the Built Environment looks at Brexit's impact on future skills needs in the construction industry and built environment professions.
---
BBC reports on the youngest Grade I listed structures in England
The BBC reports on how the Humber Bridge has been given Grade I listed status to become one of only six structures built in England since 1961 to be afforded the honour.
---
Contracts awarded for Palace of Westminster refurbishment
BDP and CH2M have been selected for vital work to protect the heritage of the Palace of Westminster from the substantial and growing risk of failure of its essential services.
---
Scotland Planning Review - analysis of consultation responses
The Scottish Government's commissioned independent analysis of responses to the 'Places, People and Planning' consultation has been published with a position statement on proposals it plans on taking forward.
---
Historic Environment Scotland - Bringing a Blackhouse to life
HES offers a blog on creating a series of Digital Stories to help schools learn about blackhouse history and Gaelic, with the help of pupils from Sgoil an Taobh Siar.
---
London Assembly Environment Committee launched report on green spaces
The Committee has launched a report that looks at measures to protect and improve the capital's green spaces 'Park life: ensuring green spaces remain a hit with Londoners'.
---
National Trust DG quits for job at Oxford College
Dame Helen Ghosh has announced she will be stepping down as director general of the National Trust in March next year to become master of Balliol College at Oxford University.