About IHBC
Historic places attract people, activity and investment, giving new life to their communities and helping make places more competitive. They play a central role in regenerating towns, cities and rural areas all around the UK, in particular, helping to repopulate inner-city areas.
The Institute of Historic Building Conservation (IHBC) is the professional body for building conservation practitioners and historic environment experts working in the United Kingdom. It exists to establish, develop and maintain the highest standards of conservation practice, to support the effective protection and enhancement of the historic environment, and to promote heritage-led regeneration and access to the historic environment for all. It has a network of regional and national branches around the UK.
IHBC members come from a range of professional disciplines in the public, private and voluntary sectors, including conservation officers, planners, architects, regeneration practitioners and academics. The work of members varies from overseeing small-scale traditional repairs to managing multi-million pound area regeneration projects.
Using internationally-recognised standards, IHBC assesses and regulates conservation practitioners. It works to provide regular training, continuing professional development (CPD) and education events, as well as lobbying at international, national, regional and local levels.
For more information, see the IHBC's website.
---
IHBC is passionate about making knowledge freely-available. This helps defragment the industry, spread best practice, promote innovation and prevent mistakes.
Conservation Wiki has been created to further this ambition and IHBC is calling on its members, and others to contribute to this valuable and growing resource for the benefit of all.
---
About Conservation Wiki
---
Conservation Wiki is part of the Designing Buildings Wiki platform created to make construction industry knowledge freely available to everyone. Anyone can create articles about subjects they know and find articles about subjects they don't.
Conservation Wiki is operated by the Institute of Historic Building Conservation. It provides a platform for sharing knowledge about the conservation of the built and historic environment, from the restoration of cathedrals to the management of conservation areas and retrofitting period, traditional and modern properties to improve their performance.
---
Where there are articles on Conservation Wiki that are owned and maintained by the IHBC, they are protected from editing and linked to their original source on the IHBC website. Comments on these articles can be emailed to IHBC's Support Officer Carla Pianese, at [email protected]. Other articles on Conservation Wiki do not necessarily reflect IHBC policy or practice.
Conservation Wiki is a publicly accessible service and the IHBC encourages practitioners to populate it with relevant content as well as to contribute to the development of existing articles. Where appropriate these contributions may be used to inform IHBC policy and practice.
---
Click here to see a list of all the articles on Conservation Wiki.
---
To find an article, just type your subject into the search box. Conservation articles will appear first in the search results, then related articles form the rest of Designing Buildings Wiki.
To create an article, first register, then click 'Create an article'. To add your article to Conservation Wiki, tick the 'Conservation' category at the end of the article before you save it. To add your profile to articles you write, just insert your signature.
You can also edit and improve existing articles by clicking 'Edit this article'. If 'Edit this article' does not appear above an article, you may have reached your 5-edits-a-day limit, in which case, just register or log in to continue, or the article may have been protected by its author.
If you want to comment on an article, click 'Add a comment' at the end of the article, or email Carla Pianese, at [email protected].
---
For more information have a look at the Designing Buildings Wiki quick start guide, or go to the Designing Buildings Wiki help page.
---
IHBC NewsBlog
Discover webinars, lectures, training, and other events via IHBC's CPD Circular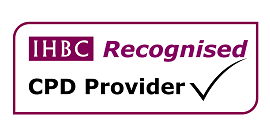 The IHBC lists quality providers of education and learning in the historic built environment, and emails a monthly recap of their upcoming events.
---
Denmark's 300-year-old homes of the future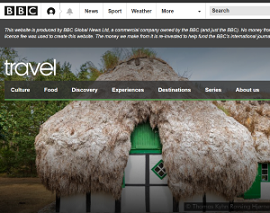 On Læsø, houses are thatched with thick, heavy bundles of silvery seaweed that have the potential to be a contemporary building material around the world.
---
Upcoming Heritage Open Days to feature in-person and online events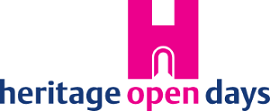 For the first time in its history, England's largest festival of heritage and culture will feature online events as well as in-person activities. Heritage Open Days (HODs) returns in September, thanks to support from players of People's Postcode Lottery.
---
RSA report 'Heritage for inclusive growth' published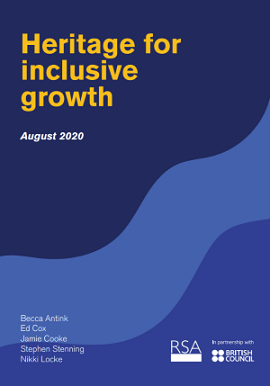 The Royal Society for the encouragement of Arts, Manufactures and Commerce (RSA) shows the scale of the 'missed opportunity' if we continue to separate heritage policymaking and economic policymaking.
---
UKGBC creating new 'Policy Playbook' covering retrofit of the existing housing stock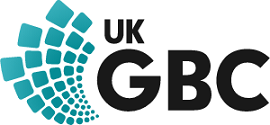 The resource format has proved to be a successful way of providing guidance for local authorities on crucial policy topics.
---
Over-engineered buildings nullify the green benefits, from pbctoday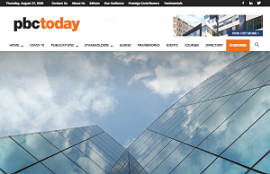 Insight into the smart ways to design building services to ensure they perform as designed without being over-engineered
---
World's oldest operational vehicular suspension bridge receives restoration funding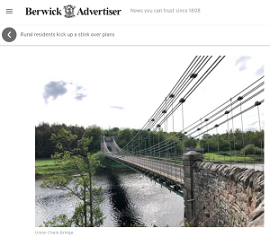 Historic England (HE) has awarded £250,000 towards the restoration of the Union Chain Bridge, built in 1820, spanning the River Tweed near Berwick.
---
'Restoration' and 'Repair': what's the difference?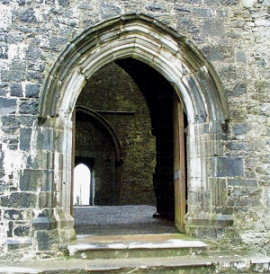 One of Ireland's most distinguished architectural historians explores the differences between 'restoration' and 'repair' and Conservation ethics in issue 163 of CONTEXT.
---
Don't demolish old buildings, urge architects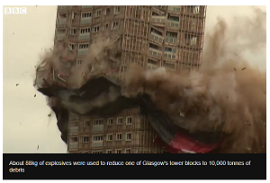 Architects say buildings should be protected – to fight climate change, reports the BBC on recent evidence given to the Commons Environmental Audit Committee (EAC).
---
IHBC's latest issue of CONTEXT explores issues with Damp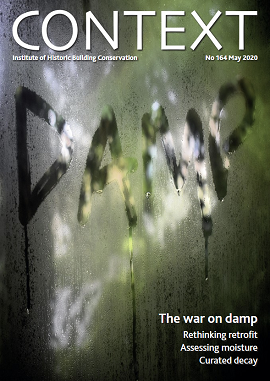 It includes articles on Rethinking Retrofit to not waste carbon and not damage buildings, Assessing Moisture in porous building materials, conserving the Burns Monument using lime grout and injection mortars, Curated Decay, and more.
---