About IHBC
Historic places attract people, activity and investment, giving new life to their communities and helping make places more competitive. They play a central role in regenerating towns, cities and rural areas all around the UK, in particular, helping to repopulate inner-city areas.
The Institute of Historic Building Conservation (IHBC) is the professional body for building conservation practitioners and historic environment experts working in the United Kingdom. It exists to establish, develop and maintain the highest standards of conservation practice, to support the effective protection and enhancement of the historic environment, and to promote heritage-led regeneration and access to the historic environment for all. It has a network of regional and national branches around the UK.
IHBC members come from a range of professional disciplines in the public, private and voluntary sectors, including conservation officers, planners, architects, regeneration practitioners and academics. The work of members varies from overseeing small-scale traditional repairs to managing multi-million pound area regeneration projects.
Using internationally-recognised standards, IHBC assesses and regulates conservation practitioners. It works to provide regular training, continuing professional development (CPD) and education events, as well as lobbying at international, national, regional and local levels.
For more information, see the IHBC's website.
---
IHBC is passionate about making knowledge freely-available. This helps defragment the industry, spread best practice, promote innovation and prevent mistakes.
Conservation Wiki has been created to further this ambition and IHBC is calling on its members, and others to contribute to this valuable and growing resource for the benefit of all.
---
About Conservation Wiki
---
Conservation Wiki is part of the Designing Buildings Wiki platform created to make construction industry knowledge freely available to everyone. Anyone can create articles about subjects they know and find articles about subjects they don't.
Conservation Wiki is operated by the Institute of Historic Building Conservation. It provides a platform for sharing knowledge about the conservation of the built and historic environment, from the restoration of cathedrals to the management of conservation areas and retrofitting period, traditional and modern properties to improve their performance.
---
Where there are articles on Conservation Wiki that are owned and maintained by the IHBC, they are protected from editing and linked to their original source on the IHBC website. Comments on these articles can be emailed to IHBC's Support Officer Carla Pianese, at [email protected]. Other articles on Conservation Wiki do not necessarily reflect IHBC policy or practice.
Conservation Wiki is a publicly accessible service and the IHBC encourages practitioners to populate it with relevant content as well as to contribute to the development of existing articles. Where appropriate these contributions may be used to inform IHBC policy and practice.
---
Click here to see a list of all the articles on Conservation Wiki.
---
To find an article, just type your subject into the search box. Conservation articles will appear first in the search results, then related articles form the rest of Designing Buildings Wiki.
To create an article, first register, then click 'Create an article'. To add your article to Conservation Wiki, tick the 'Conservation' category at the end of the article before you save it. To add your profile to articles you write, just insert your signature.
You can also edit and improve existing articles by clicking 'Edit this article'. If 'Edit this article' does not appear above an article, you may have reached your 5-edits-a-day limit, in which case, just register or log in to continue, or the article may have been protected by its author.
If you want to comment on an article, click 'Add a comment' at the end of the article, or email Carla Pianese, at [email protected].
---
For more information have a look at the Designing Buildings Wiki quick start guide, or go to the Designing Buildings Wiki help page.
---
IHBC NewsBlog
Your FIRST FREE IHBC Xmas gift to colleagues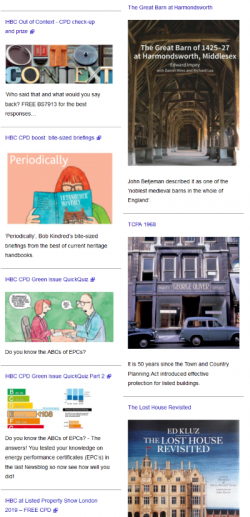 Tell them about IHBC's Conservation Wiki – Our free digital digest for the development and construction sector.
---


CPD check-up and prize: 'Who said that?' – And what would you say back? FREE BS7913 for the best responses…
---
IHBC Chair at 2018 Heritage Day: A personal take and update

IHBC's Chair James Caird attended the 2018 Heritage Day, led by England's heritage link body, The Heritage Alliance (THA), and offers readers an update on his day.
---
IHBC raises objections in high-level Historic Environment Advisor Apprenticeship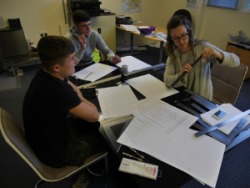 IHBC has lodged its concerns and objections to current proposals submitted by Historic England's 'Trailblazer' Group to the Institute for Apprenticeships (IfA) for approval.
---
Latest IHBC Council+ corners the tables to see how best to deliver member services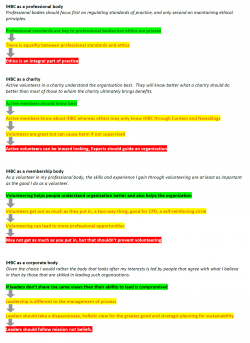 IHBC has concluded the 7th Council+ meeting, the institute's UK-wide forum for volunteers' national oversight and development, which took place in London.
---
DesigningBuildings Wiki features IHBC Context celebrating 50 years of the TCPA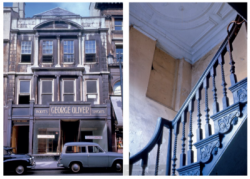 Tucked away in Part V of the Town and Country Planning Ace was a revolution in heritage conservation that Timothy Cantell has explored in IHBC's Context.
---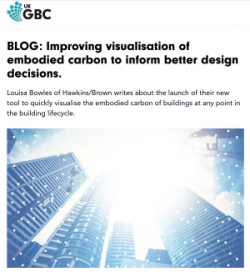 UK Green Building Council has reported on the launch of Hawkins/Brown's new tool to quickly visualise the embodied carbon of buildings at any point in the building lifecycle.
---
AHF - new partnership Heritage Impact Fund to be launched in early 2019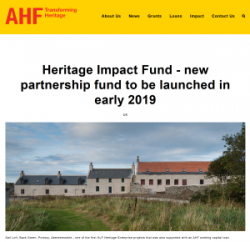 The Architectural Heritage Fund has announced the fund as part of its ongoing work to increase the levels of social investment supporting the heritage sector.
---
BRE and USGBC announce new partnership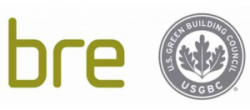 Two built environment organisations have announced the first building quality and performance partnership of its kind partnering to raise global sustainability standards.
---
Civic Voice: Guidance tool for communities to identify local heritage assets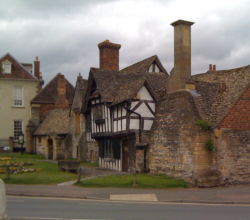 A resource developed as part of Civic Voice's Big Conservation Conversation and their 'Local Heritage List' campaign.
---
Landmark - online archive of History Albums now accessible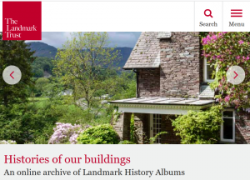 Landmark's History Albums is now available online making the detailed research undertaken on each Landmark digitally available to all.
---
Joint Committee on draft Parliamentary Buildings (Restoration and Renewal) Bill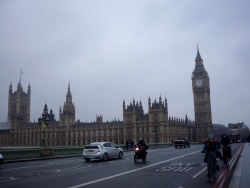 Call for evidence, closing 18 January, inviting views on whether the governance structures for the Restoration and Renewal (R&R) Programme are appropriate.
---
Updates on programme on planning reform in England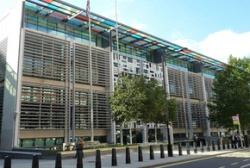 The latest version of the Planning Directorate Newsletter brings readers up to date with the England's programme of planning reform.
---
Specialist contractors call for government regulation of the construction industry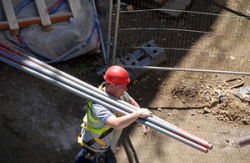 The chairman of the Specialist Engineering Contractors' (SEC) Group wants to government to set up a statutory authority to regulate construction industry practice.
---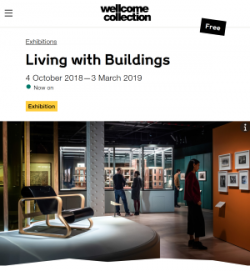 Wellcome's Living with Buildings exhibition on until to 3 March in London examines the positive and negative influence buildings have on our physical and mental health.
---
The economic value of culture - a benefit transfer study on museums in England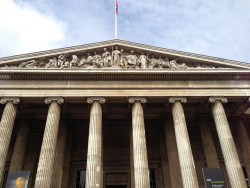 New research has been published to help understand the visitor and non-visitor value of cultural engagement at 4 cultural institutions in England – is this transferrable?
---
England - Open Doors pilot scheme closing 31 Dec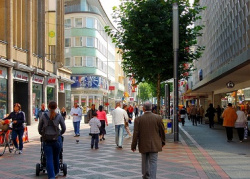 Government in England's pilot scheme to match landlords struggling to find tenants for their empty properties with community groups looking for space.
---
RTPI to investigate strategic infrastructure planning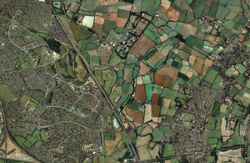 New research commissioned from University of the West of England in partnership with PBA (part of Stantec), on how strategic infrastructure planning is carried out.
---
Scottish Lochside House named House of the Year 2018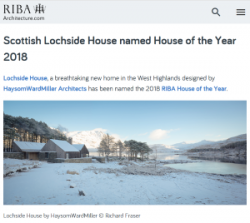 Lochside House, a breathtaking new home in the West Highlands designed by HaysomWardMiller Architects has been named the 2018 RIBA House of the Year.