First temple to receive Places of Worship grant
On 24 August 2106, it was announced that A Grade II* listed building would be the first temple to receive funding through the Grants for Places of Worship (PoW) scheme, the Taiwanese Fo Guang Shan temple, just off Oxford Street in London, will be using the development funding to work towards major building repairs.
The Heritage Lottery Fund (HLF) wrote:
Only a few minutes away from the bustle of Oxford Street is London's Fo Guang Shan (FGS) Temple, a sanctuary from the stresses of everyday urban life.
The well-established Taiwanese temple, which also runs the charity International Buddhist Progress Society UK, currently attracts 18,000 visitors per year.
London FGS Temple is a Grade II* listed building and active centre of Buddhist worship and teaching. However, building damage has placed the temple at risk and restoration is crucial to get it back in working order again. Luckily, after a successful application to HLF, London FGS Temple became the first ever temple to receive HLF support under the Grants for Places of Worship scheme. Development funding of £33,500 has recently been awarded to help London FGS Temple progress plans to apply for the full earmarked funding of £209,300.
The HLF grant will support restoration work to the eastern roofs, replacing damaged bricks and rebuilding the high level masonry of the temple, originally designed by Gothic architect William Butterfield in 1868. Alongside the restoration work, there will be a programme of community activities and events including archive research into the history of the building and a photography exhibition celebrating the 50th anniversary of the Fo Guang Monastery.
Applying the Fo Guang proverb of 'offer confidence, offer joy, offer hope, and offer convenience', the London FGS Temple will also be hosting singing, dancing and meditation classes and educational tours available to the public. Venerable Miao Shiang, Head of London Fo Guang Shan Temple, said: 'It was fantastic news when we heard that our grant application had been approved by HLF. This news was received very well by everyone at the Temple. Our board of directors and trustees thank the HLF for the grant and are extremely grateful for the support. We look forward to working with HLF on this project.'
Stuart Hobley, Head of HLF London, said: 'The Fo Guang Shan temple has been a part of London's community for over 24 years and provides a rich programme of events and activities for all to enjoy. The temple is currently in need of urgent repair work and thanks to National Lottery players, this crucial restoration project will now be able to preserve the heritage of the temple, keeping it up and running and accessible for all.'
[edit]
External references
Featured articles and news

The IHBC helps UK Civic Trusts to celebrate the 50th anniversary of the introduction of Conservation Areas, with a fund allocation of up to £2500, including a prize of a place at the IHBC's Annual School on offer for the most effective project.
---
IHBC top HESPR tender pick of the week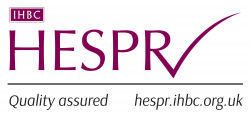 The IHBC's commercial conservation services listing, HESPR – the Historic Environment Service Providers Recognition scheme – offers weekly HESPR Bulletins listing tender opportunities. The Director's top pick for IHBC members this week features Redbridge Borough Council's search for a 'consultant to provide additional guidance to support the Council's evidence base in relation to tall buildings throughout the Borough', with a contract valued at £60,000.
---
IHBC Northern Ireland Branch Annual General Meeting and joint conference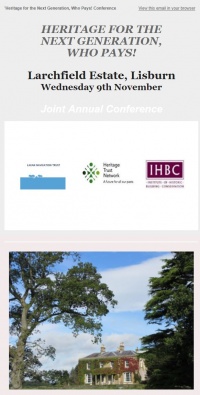 This year the AGM will be held in Lisburn on 9th November, followed by the joint conference 'Heritage for the Next Generation, Who Pays?', organised by the Branch with Lagan Navigation Trust and Heritage Trust Network. Key ministerial and media speakers include Paul Givan MLA, John Sergeant and Joe Mahon.
---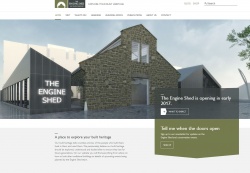 The IHBC has warmly welcomed Historic Environment Scotland's (HES) new website, a 'Place to Explore your Built Heritage'.
---
Fire devastates Bristol Grade II listed Church
Bristol may have lost one of its oldest and most historically important churches as St Michael on the Mount Without adds itself to the long line of listed buildings assailed by fire.
---
Harlow resident prosecuted after failing to knock down unauthorised outbuilding in conservation area
A resident has been fined £1,600 after Harlow Council took him to court for failing to demolish an outbuilding he has built in his garden, as Councillor Danny Purton, Portfolio Holder for Environment there, said: '… People living in a conservation area take pride in maintaining its special character and this development does more harm than good and does nothing to either preserve or enhance the appearance of the area. There are no public benefits to outweigh the harm this causes.'
---
Art history, classical civilisation and archaeology set to disappear at A and AS Level
On 12 October 2016, the AQA exam board announced that it would not be continuing work to develop new AS and A-levels in Archaeology, Classical Civilisation, History of Art and Statistics, and petitions objecting to these plans have been generating lots of signatures.
---
Scotland's first TB sanatorium destroyed by fire
Firefighters worked through the night of 13 October to battle a huge blaze at a former north-east hospital, the derelict Glen O'Dee hospital, Banchory as now news reports have emerged that the Category A listed building, which once featured on the BBC 'Restoration' programme, has been deliberately destroyed by fire.
---
Appeal decision for housing near historic Warwickshire battlefield rejected
An appeal launched relating to housing near the historic battlefield of Edgehill, Stratford-upon-Avon in Warwickshire has been dismissed, with the inspector concluding that the appeal was not in accordance with the development plan and that harm to the character of the surroundings would be likely to occur.
---
Weeping Window open at Caernarfon Castle
The remembrance poppy sculpture 'weeping window' which was initially at the Tower of London now graces another monument, this time in Wales, at Caernarfon Castle.