Bas-relief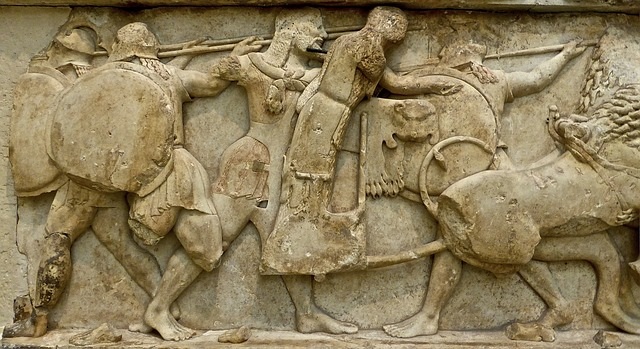 A bas-relief is a form of sculpture that is carved from a flat two-dimensional plane creating a three-dimensional appearance. The backgrounds are kept shallow from the raised features, usually between a fraction of an inch to a few inches deep. It was predominately used as a decorative feature in the ancient architecture of countries such as Egypt, Greece and Italy.
The term is French and is derived from the Italian basso-relievo ('low relief').
A bas-relief is created in one of two ways:
By carving away material such as wood, stone, ivory, and so on.
By applying material, such as strips of clay, to the top of an otherwise smooth surface.
The natural contours and shape of that being represented should be retained, which means that the bas-relief can be viewed from different angles without undue visual distortion.
Alto-relievo (high relief) is where the technique is applied to much deeper backgrounds, usually of between a foot and several feet in depth.
Featured articles and news
IHBC supports Civic Voice Convention 2016

The IHBC is delighted to be able to support again the annual convention of a key civic partner in England, the Civic Voice, at its forthcoming Convention, on 'Adding Value', in Chester, 21-22 October.
---
Newcastle-Gateshead to host the Great Exhibition of the North
The Exhibition will showcase the great creative, cultural and design sectors in the city and across the whole of the North of England.
---
Former Leeds munitions factory scheduled
A former munitions factory in Leeds has been designated as a scheduled monument.
---
Queensferry Crossing featured in the Guinness World Records
The Scottish Government has announced that the Queensferry Crossing's centre tower deck has been recognised by Guinness World Records as the largest freestanding balanced cantilever in the world.
---
Heritage Lottery Fund projects to create more than 100 jobs
£48 million of funding has been announced by the Heritage Lottery Fund (HLF), creating over 100 jobs.