IHBC welcomes RTPI's public vote on the 10 best places in Wales
This article was created by The Institute of Historic Building Conservation (IHBC). It originally appeared in the IHBC NewsBlogs.
---
On 5 August 2016, IHBC Wales Branch Chair Rory Wilson welcomed RTPI Cymru's announcement that public nominations for the best places in Wales included the first place in Britain to be designated an Area of Outstanding Natural Beauty, several UNESCO World Heritage Sites and stunning landscapes.
Wilson said, ''Public consciousness of great places is analogous with interest in our historic towns. IHBC (Wales) welcomes this initiative which should encourage interest and care of historic buildings and structures, and their context."
RTPI Cymru wrote:
Wales' Best Places is a competition run by the RTPI Cymru, to celebrate some of our most attractive and inspiring places and the role planners have played in helping to protect or shape them for Welsh communities.
The top 10 best places in Wales have been whittled down by the Wales Best Places Judging Panel from over 200 nominations from the public.
The finalists are:
Aberaeron, Ceredigion
Caernarfon, Gwynedd
Cardiff Bay Inner Harbour, Cardiff
Denbigh, Denbighshire
Gower, Swansea
The Hayes, Cardiff
Llandudno Promenade and Mostyn Street, Conwy County Borough
Merthyr Tydfil Town Centre, Merthyr Tydfil
Snowdonia, Conwy and Gwynedd
Tenby, Pembrokeshire Coast National Park
Peter Lloyd, Chair of RTPI Cymru said: 'The competition has reminded us of the passion we have for places we love. The finalists, places clearly loved by the public, have been protected, carefully planned or improved by the planning system. I encourage everyone to get behind their favourite place to ensure it wins!'
The voting for Wales Best Places was officially launched by RTPI Cymru at the 2016 National Eisteddfod in Abergavenny. Similar successful competitions were held in England and Scotland in 2014.
[edit]
External references
Featured articles and news
IHBC Gus Astley Student Award 2017 now open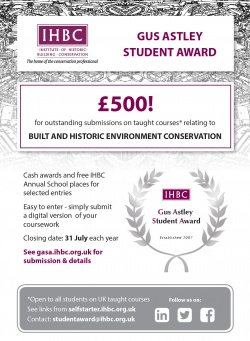 Send in your coursework on a taught course by 31 July for a chance to win a prize and attend the IHBC's Annual School in Belfast in June 2018.
---
Can Wellington (NZ) save its heritage buildings before it's too late?

---
Local military heritage at risk
The Daily Telegraph reports that many small regimental museums are to lose Ministry of Defence (MoD) funding by the end of next decade.
---
Heritage Open Days festival 2016 attended by millions
The Heritage Open Days (HODs) 2016 Impact Report shows an estimated 3 million visitors attending 5293 events with £10m for local economies.
---
International News - Cultural Protection Fund projects announced
The British Council has announced the initial projects to be supported by the Cultural Protection Fund, which will protect heritage overseas.