The secret life of the Georgian garden
The Secret Life of the Georgian Garden: beautiful objects and agreeable retreats, by Kate Felus, IB Tauris, 2016, 258 pages, 71 black and white illustrations, hardback, ISBN 978 I 784535 72 8.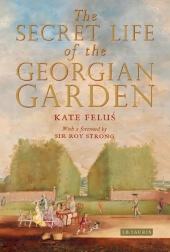 Here is a book with the author's personal stamp clearly on it. Writing in the first person singular, Kate Felus starts by describing how she lived and worked at Stowe, Bucks, at the time of the National Trust's 'epic restoration' of the vast garden and its buildings, which began in 1989. From here she undertook a doctoral thesis (the basis of this publication) and now fully devotes her work to consultancy on gardens.
The secrets divulged here are sometimes risqué but mainly present for our consideration the serious reasons why Georgian gardens in the surroundings of the houses of the gentry and nobility contained so many buildings: follies, grottos, eye catchers, temples and so on, and their supplements such as walled plots and glasshouses. We have all seen these, whether dilapidated or thriving, but rarely give much thought to their original purpose. Surprisingly, The Secret Life breaks much new ground, both in its abundant sources, in the interpretation of the fabric that survives, and in the supporting documents. These cover lost buildings as well as those we may still behold.
Such buildings mainly addressed two big problems: the British climate and the crowded nature of domestic life in the houses where family and servants shared limited space. Escaping into the open spaces of the gardens and even into the farthest reaches of great parks, a sudden shower called for the welcome shelter of hospitable buildings.
Planned tours of gardens were laid on for guests. These could take the form of carriage drives round the estate. Such trips might pause for refreshment and entertainment. All of this is explained in the book, with ample evidence that reaches as far as suggesting what might have been on the menu for the outdoor meals. Where lakes were available, the entertainments could include fishing, boating or even the staging of mock sea-battles.
The Secret Life has much to offer. Its contents offer fresh insights into the significance of garden buildings for professionals as well as for a wider reading public. Both will enjoy its entertaining, lucid and thorough approach to a subject that has waited long for a specialist single-volume publication.
---
This article originally appeared in IHBC's Context 148, March 2017. It was written by Graham Tite, a conservation officer working on buildings and their parkland settings in Buckinghamshire.
--Institute of Historic Building Conservation
IHBC NewsBlog
IHBC - Heritage Project Management at Bishop Auckland with CIOB
On 18/19 October the IHBC, with CIOB and others will host this event offering practical insights into the working of heritage-led regeneration projects valued at some £90 million.
---
IHBC update on Historic England review of written advice and guidance
Pye Tait is carrying out an independent review of HE's online advice and guidance, and want to boost responses from local authority (LA) conservation officers in particular..
---
Medway Council seeks heritage interpretation strategy and delivery on HLF project, closing 1 September, valued £97,000.
---
DBW Context post - Sir Donald Insall on Chester Conservation Areas
Sir Donald Insall's article on 'Chester, conservation as positive action', written for the IHBC's Conservation Area anniversary issue of Context of March 2017 now on DBW.
---
DCLG publishes guidance on Brownfield Registers and Permission in Principle
The Department for Communities and Local Government guidance supports permission in principle and brownfield registers of land suitable for housing.
---
London Mayor - new planning rules to boost affordable housing
At least half the new homes built on public land in London will have to be affordable to benefit from faster planning permission under a new approach to development.
---
Places, People and Planning – BEFS response to the Position Statement
Built Environment Forum Scotland has submitted its response to the Scottish Government's position paper on the planning review.
---
SAVE and partners granted permission for judicial review on Paddington Cube decision
The High Court grants permission to challenge the Secretary of State for Communities and Local Government over refusal to call in Paddington Cube proposals for public inquiry.
---
Campaigners delighted as reconstruction work finally begins on Carlton Tavern
Work has begun, as a result of campaigners fight, on the reconstruction of a beloved pub the Carlton Tavern, Maida Vale which was knocked down illegally by its owners.
---
Scottish tour operator aims to correct misleading displays
A Scottish tour operator has set up a national 'history police' forum, allowing the public to report misleading or inaccurate information at museums and local information boards.