Stick style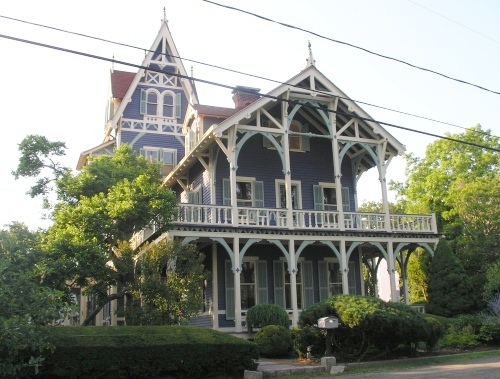 The Stick style was an American architectural style that was prevalent between around 1860 and 1890.
The most distinctive stylistic element of the Stick style is the decorative stickwork or bands of wood trim applied horizontally, vertically or diagonally to the exterior wall surfaces. A similar pattern of decorative wood trim appears in the trusses of the gables and across gables and on the porch braces.
The Stick style is considered to be a transitional style, with decorative details similar to the preceding Gothic Revival style, and a shape and form closely related to the following Queen Anne style. All three styles are inspired by Medieval English building tradition and therefore, share some common features.
Unlike the Gothic Revival style, the Stick style treats wall surfaces, not just doorways, cornices, windows and porches as decorative elements.
Like other Picturesque styles, the Stick style was promoted by the pattern books of Andrew Jackson Downing in the mid-1800s.
The exterior stickwork was considered to be display structural honesty by showing the supportive wooden understructure on the outside. Since the stickwork on the walls was purely decorative rather than structurally relevant, such an argument for the greater integrity of form of this style seems somewhat unfounded.
The Stick style was never as popular and wide spread as the somewhat later Queen Anne style which appears in various forms all over the United States.
Some of the key identifiable features of the Stick style are as follows:
Steeply pitched gable roof.
Cross gables.
Decorative trusses at gable peak.
Overhanging eaves with exposed rafters.
Wood exterior walls with clapboards.
Horizontal, vertical or diagonal decorative wood trim - stickwork.
Porches with diagonal or curved braces.
Towers.
--Pennsylvania Historical and Museum Commission
IHBC NewsBlog
IHBC - Heritage Project Management at Bishop Auckland with CIOB
On 18/19 October the IHBC, with CIOB and others will host this event offering practical insights into the working of heritage-led regeneration projects valued at some £90 million.
---
IHBC update on Historic England review of written advice and guidance
Pye Tait is carrying out an independent review of HE's online advice and guidance, and want to boost responses from local authority (LA) conservation officers in particular..
---
Medway Council seeks heritage interpretation strategy and delivery on HLF project, closing 1 September, valued £97,000.
---
DBW Context post - Sir Donald Insall on Chester Conservation Areas
Sir Donald Insall's article on 'Chester, conservation as positive action', written for the IHBC's Conservation Area anniversary issue of Context of March 2017 now on DBW.
---
DCLG publishes guidance on Brownfield Registers and Permission in Principle
The Department for Communities and Local Government guidance supports permission in principle and brownfield registers of land suitable for housing.
---
London Mayor - new planning rules to boost affordable housing
At least half the new homes built on public land in London will have to be affordable to benefit from faster planning permission under a new approach to development.
---
Places, People and Planning – BEFS response to the Position Statement
Built Environment Forum Scotland has submitted its response to the Scottish Government's position paper on the planning review.
---
SAVE and partners granted permission for judicial review on Paddington Cube decision
The High Court grants permission to challenge the Secretary of State for Communities and Local Government over refusal to call in Paddington Cube proposals for public inquiry.
---
Campaigners delighted as reconstruction work finally begins on Carlton Tavern
Work has begun, as a result of campaigners fight, on the reconstruction of a beloved pub the Carlton Tavern, Maida Vale which was knocked down illegally by its owners.
---
Scottish tour operator aims to correct misleading displays
A Scottish tour operator has set up a national 'history police' forum, allowing the public to report misleading or inaccurate information at museums and local information boards.