Stained glass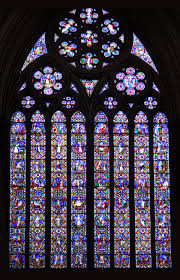 Stained glass is a type of glazing material that is coloured (stained), either by the addition of metallic salts during the manufacturing process, or by having colour applied to its surface and then being fired in a kiln to fuse the colour to the glass.
Stained glass can be used for a wide range of purposes, but it is most commonly found in flat panels in windows. Stained glass windows typically comprise small pieces of coloured glass held in place by a latticed web of lead strips formed within a rigid frame. The pieces are often arranged to create patterns or pictorial representations, often depicting religious iconography.
Stained glass windows are commonly associated with cathedrals, churches, mosques and other important buildings such as libraries and town halls. In England, the use of simple stained glass windows dates back to the 7th century, and by the 12th century they had become a sophisticated art form. However, following the Reformation in the 16th century, when sacred art began to decline in prominence, the craft of manufacturing stained glass began to dwindle.
IHBC NewsBlog
This week's employment opportunities totalling more than £50K of annual income. For applicants or employers - IHBC Jobs etc is the first place to visit.
---
IHBC Annual School 2018 Belfast 21-3 June - Day School lead speakers
Visit the Speakers' webpage which highlights speakers and topic areas, so now prospective delegates can see the theme and topic areas relate to their CPD priorities.
---
IHBC Heritage from the doorstep

Stroud TC's developing NDP heritage list - Victorian postbox, old tomb and several historic buildings….
---
IHBC Heritage from the doorstep

Mocha Parade, Manchester – 'neglected shopping precinct that time forgot' to face bulldozer.
---
HES new Guidance Note on windows
Historic Environment Scotland has launched a new 'Guidance Note, Managing Change in the Historic Environment' on windows as part of a series of non-statutory notes.
---
Heritage audience insights update - review of HE's online advice and guidance
Historic England commissioned research in 2017 into whether their written advice and guidance provides the right information to the right audiences in the most effective way.
---
CMS Committee on the impact of Brexit
The Culture Media and Sport Select Committee reports on the potential impact of Brexit on the creative, tourism and digital industries.
---
The Golf Ball – the next blip on the London skyline
Designs for spherical concert venue are set to add even more diversity to the capitals 'suggestive skyline', the Guardian reports.