St Peters Basilica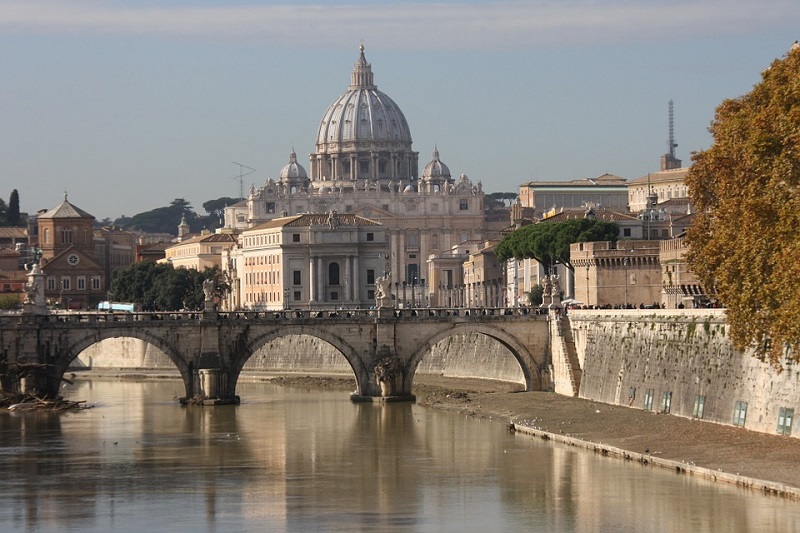 [edit]
Introduction
The Basilica Papale di San Pietro in the Vatican City, commonly known as St. Peter's Basilica, is an Italian Renaissance church located in the papal enclave within Rome, Italy. It is one of the holiest sites in Christendom, is the Pope's principal church and is a famous site for pilgrimage and liturgical functions.
One of the largest churches in the world, it is thought to have been built on the burial site of St. Peter, one of Christ's Apostles and the first Pope. Continuing this Catholic tradition, Popes are still buried within the basilica.
The original church dated back to around 320 CE, but construction began on the basilica in 1506 and it was only completed in 1626. Its design involved the greatest 'Old Masters' of the Renaissance, including Alberti, Raphael, Bramante, Michelangelo, and Bernini.
St. Peter's Basilica was inscribed as a UNESCO World Heritage site in 1984, and attracts millions of visitors every year.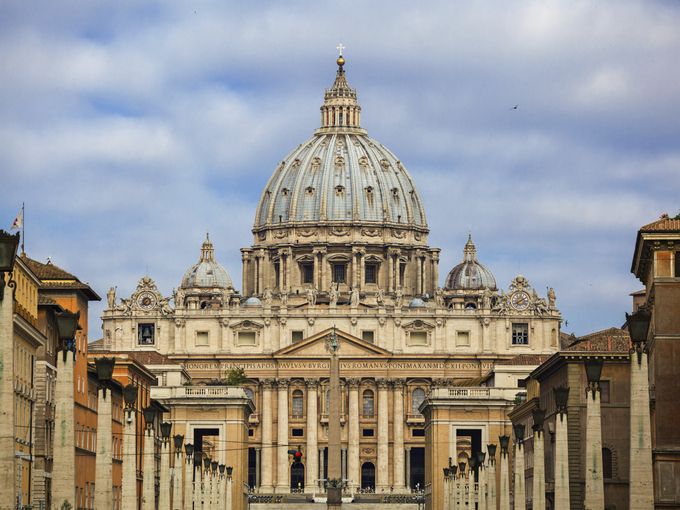 Having fallen into disrepair at the end of the 15th century, the Old St. Peter's Basilica took a typical basilical form – a wide nave, two aisles on each side and an apsidal end. Originally it was only intended to modify the building, but successive Popes decided it should be demolished and replaced with a more monumental structure. A design competition was held by Pope Julius II, and the design of Donato Bramante selected.
Bramante's design gave the basilica the form of a Greek Cross with a dome inspired by the Pantheon, but rather than being supported by a continuous circular wall, the new basilica's dome was designed to be supported on four large piers.
With the death of Bramante in 1514, several others were commissioned, each of whom made alterations to the original design. The iconic dome was designed largely by Michelangelo and built around 1585-1590. It was Michelangelo's intention to realise the central unity of Bramante's original design while ensuring the stability of the load-bearing structure through the use of four pendentives and massive piers, 60 ft thick.
The top of the dome reaches 136.6 m (448.1 ft) high, making it one of the tallest buildings of the Old World, and it still remains the tallest dome in the world. However, it no longer holds the distinction of being the largest dome by diameter.
The basilica is built out of travertine stone and measures 220 m (750 ft) in length, 150 m (500 ft) in width, and covers an area of more than 5 acres.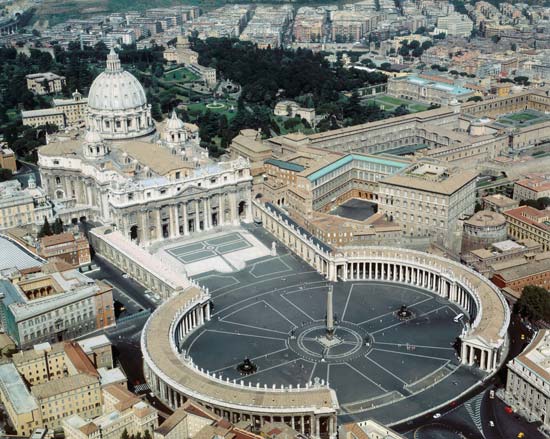 St. Peter's is approached via St. Peter's Square, a forecourt encircled by a Doric colonnade derived from Greek architecture. The forecourt is split into two sections, the first oval and the second trapezoid. The basilica's façade stretches across the end of the square, measuring 51 m (167 ft) high and 114 m (375 ft) wide. The façade was designed by Carlo Maderno and features giant Corinthian columns topped by 13 statues.
The basilica is cruciform in shape, with an elongated nave in the form of a Latin cross, adapted from the original Greek cross by successive architects. The nave is framed by a wide aisle giving access to a number of smaller chapels. The interior is lavishly decorated with marble, reliefs, architectural sculpture and gilding.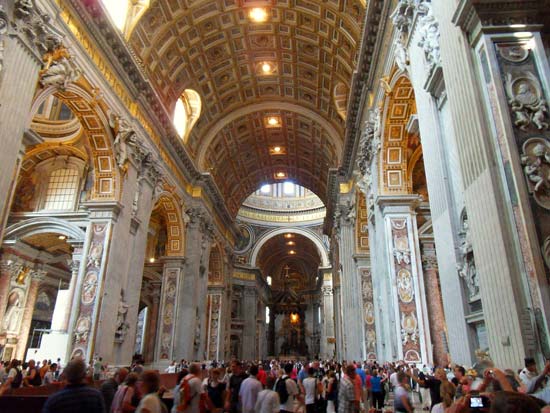 [edit]
Find out more
IHBC NewsBlog
IHBC London Branch Conference launched and open for booking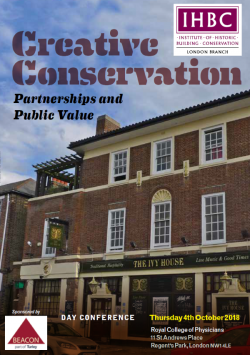 'Creative Conservation: Partnerships and Public Value' - 4 Oct, Royal College of Physicians - leading speakers, unequalled debate - a CPD opportunity not to be missed!
---
IHBC latest Jobs etc skills review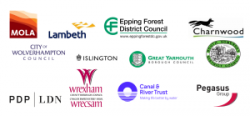 Specialist areas and skills in demand, from design and project management to regulation and more featured in our celebrated – and very cost-effective - IHBC Jobs etc service.
---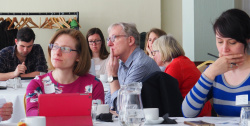 Ideas bear fruit, as early career members 'reverse mentor', generating fresh perspectives on the institute's future plans and structures!
---
IHBC Scotland at Listed Property Show in Edinburgh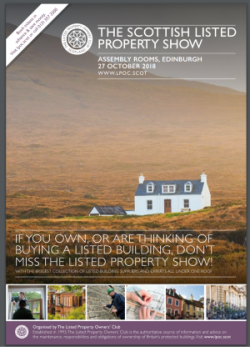 IHBC Scotland will host a CPD session at the Show on 27 October, while an IHBC stand will offer more informal access and conservation advocacy to visitors.
---
IHBC Heritage from the doorstep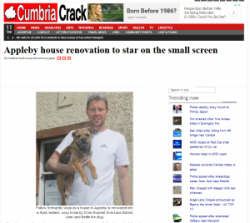 A traditional building in the Appleby Heritage Action Zone (HAZ) is filming its 'work in progress' as part of work grant aided by Historic England as reported by Cumbria Crack!
---
English Heritage celebrates the Cooper Car with a blue plaque.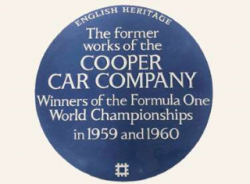 A blue plaque has been placed at the home of the former Cooper Car Company, marking its motoring heritage.
---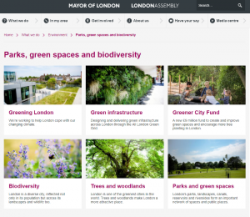 Community Tree Planting Grants and £1.5million woodland fund look to make London the world's first National Park City.
---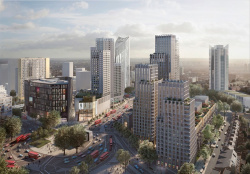 'What if mothers or teenagers designed our cities?' An opinion piece in the invites us to consider what our cities would look like if cities reflected their diverse populations.
---
V&A Dundee opens Saturday 15 Sept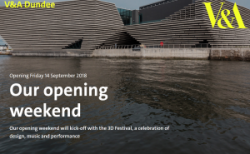 IHBC NewsBlogs reports on some building construction and collection highlights, including spectacular drone footage of work in progress and to completion.
---
IHBC supports LPOC petition on VAT reductions for Listed Buildings
LPOC notes '...it is perverse that repairs should be subject to VAT when new development is not'.
---
Loyd Grossman recently appeared on a BBC radio programme to discuss NIMBYism in heritage and development, the programme is currently available on BBC iPlayer.
---
Call to share land value with communities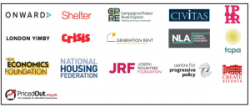 England's SoS for Housing, Communities and Local Government is sent an open letter by leading campaign organisations calling for land value to be shared.
---
Redrock Stockport wins 2018 Carbuncle Cup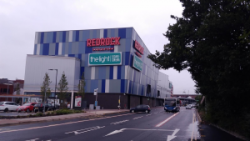 The 2018 winner of the Carbuncle Cup is Redrock Stockport, a £45m leisure complex and car park designed by BDP for the local council.