Roman Colosseum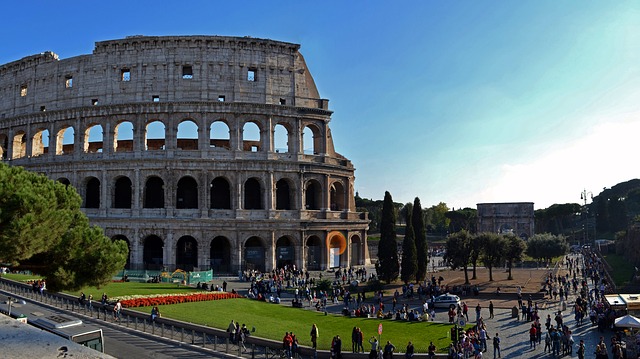 [edit]
Introduction
The Roman Colosseum, located in Rome, Italy, is the largest amphitheatre ever built and one of the most famous buildings in the world. Located near the Roman Forum, construction began on the Colosseum in AD 72 under the emperor Vespasian. It was completed in AD 80 under his heir Titus, and further modifications were carried out during the AD 81-96 reign of Domitian.
The Colosseum was used by the Romans to stage gladiator events and other public spectacles such as executions, dramatic performances and mock-sea battles. It is estimated that it could hold between 50,000 and 80,000 spectators.
The monumental scale and size of the Colosseum, as well as the innovative design for accommodating and controlling large crowds, mean it is one of the greatest architectural achievements of the Roman era.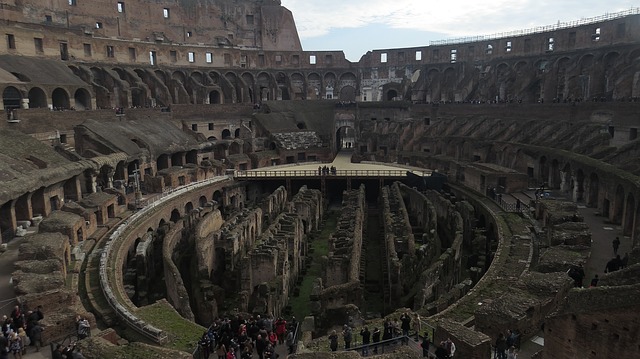 The Colosseum takes the form of a vast ellipse 527 m (1,729 ft) in circumference. It reaches a height of four storeys, 48 m (157 ft).
The strength and durability of the building was enhanced by the combination of concrete, sand and stone that were used during the construction. The foundations are made of concrete, the piers and arcades are made of travertine, tufa infill was used between piers for the walls of the lower two levels, and brick-faced concrete used for the upper levels and the majority of the vaults. Special roads were constructed to allow more than 100,000 m3 of travertine stone to be transported to Rome from quarries near Tivoli.
The building stands on a double-stepped base, with three storeys of classical arcades and a fourth storey with small rectangular windows. Arches on the four axes of the building served as the main entrances, and a further 76 numbered arches allowed access to the seats.
All the classical orders of architecture are included in the Colosseum's design, recognisable mainly by the types of columns used. The ground floor half columns are Tuscan, the second floor semi-columns are Ionic, and the third floor Corinthian. At the top, brackets and sockets carry the masts from which a velarium was suspended, a canopy to protect spectators from the sun and rain.
Beneath the wooden arena floor was a hypogeum, a complex arrangement of rooms and passages, provided storage for animals and equipment that were used in the shows.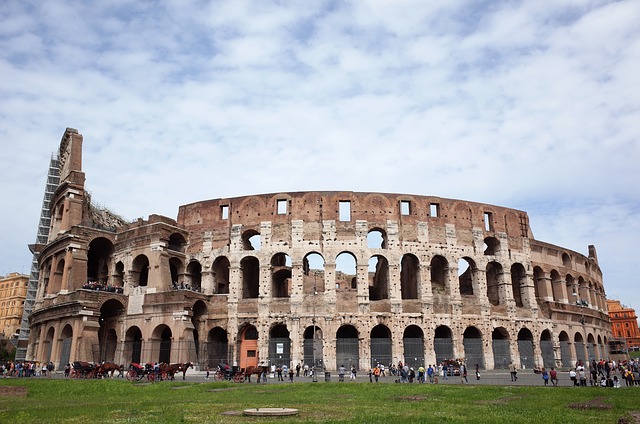 The Colosseum went through several changes during the medieval period, and housing and workshops were created in the vaulted spaces in the arcades beneath the seating and rented to locals.
Around 1200, the Frangipani family fortified the Colosseum and lived in it as a castle. An earthquake in 1349 caused severe damage, collapsing the outer south side that was built on unstable alluvial ground.
In 1749, Pope Benedict XIV pronounced the Colosseum was a sacred site, as it was a place where early Christians had been martyred by the Romans. Accordingly, he consecrated the building and forbade its use for commercial purposes.
Various stabilisation and restoration projects were initiated by succeeding Popes, including the removal of vegetation which had been allowed to take hold inside and threatened further damage. In the early 19th century, triangular brick wedges were used to reinforce the façade, and repair work was carried out on the interior over subsequent years.
A major restoration project was carried out between 1993 and 2000 which cost 40 billion lire. This was mainly to tackle the adverse effects of rainwater and pollution that had taken their toll on the structure. Restoration proposals continue, with a proposal to construct a new floor causing some controversy. Whatever future work is undertaken, the Colosseum remains one of the most popular tourist attractions in Italy, with several million people visiting it each year.
[edit]
Find out more
[edit]
External references
IHBC NewsBlog
IHBC FREE CPD Boost - Easy Access Webinar from Historic England and the IHBC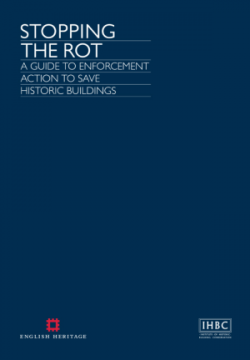 'Enhancing conservation areas & townscapes with S.215s', 13 December - numbers limited so book now!
---
IHBC Out of Context - CPD check-up and prize


'Who said that and what would you say back? FREE BS7913 for the best responses…
---
IHBC CPD boost: bite-sized briefings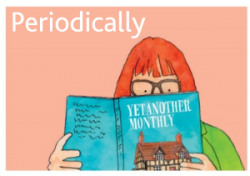 'Periodically', Bob Kindred's bite-sized briefings from the best of current heritage handbooks.
---
IHBC CPD Green Issue QuickQuiz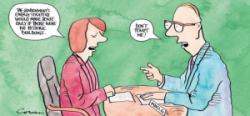 Do you know the ABCs of EPCs?
---
IHBC CPD Green Issue QuickQuiz Part 2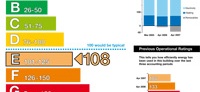 Do you know the ABCs of EPCs? - The answers! You tested your knowledge on energy performance certificates (EPC's) in the last Newsblog so now see how well you did!
---
IHBC at Listed Property Show London 2019 – FREE CPD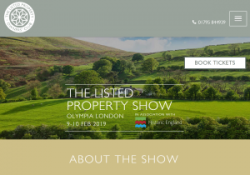 4 hours free CPD via IHBC and partners + lots more at the show in association with Historic England, on 9-10 February 2019 at London's Olympia.
---
IHBC launches new Toolbox Guidance Note for small traders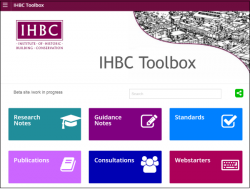 IHBC's latest Guidance Note in our Toolbox aims to provide sole practitioners and small traders with advice on taking on new work, offering 'Ten Red Flags' to watch out for.
---
Scotland - Historic Environment Audit (SHEA) 2018 is now out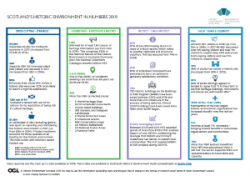 HES lead officer, Karen Robertson, has offered her personal blog looking at the trends and findings.
---
Slate Landscape of North-West Wales - preferred UNESCO World Heritage Site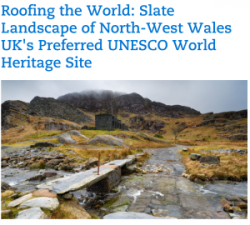 The Slate Landscape of North-West Wales will be the UK's next preferred nomination for UNESCO World Heritage Site status, Heritage Minister Michael Ellis announced recently.
---
Draft Parliamentary Buildings (Restoration and Renewal) Bill for Palace of Westminster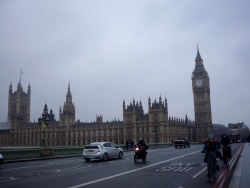 The draft Bill has been presented to allow 'interested parties the opportunity to consider the approach taken to the governance of the Restoration and Renewal Programme'.
---
APPG for Healthy Homes & Buildings White Paper published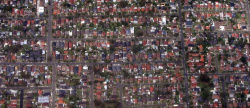 The White Paper highlights 'the need for a holistic approach to building design and renovation'.
---
Register English Community Assets on CAsE and you could win £100 gift voucher
The Architectural Heritage Fund (AHF) asks if you own or manage a community asset that you register it on the new Community Assets Exchange - you could win £100 gift voucher.
---
North of Tyne gets £600m devolution deal
Northern Powerhouse minister Jake Berry has confirmed a £600 million devolution deal for the North of Tyne. It is expected to generate £1.1 billion for the local economy.
---
Fifteen projects reach final of Heritage Angel Awards Wales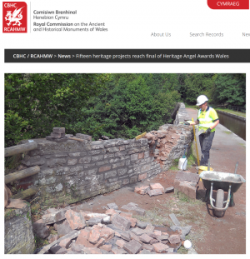 Fifteen outstanding examples of heritage achievement have been selected for a Heritage Angel Award by a panel of judges headed by Baroness Kay Andrews.
---
Entries open for 2019 John Betjeman award: Closing 26 Feb 2019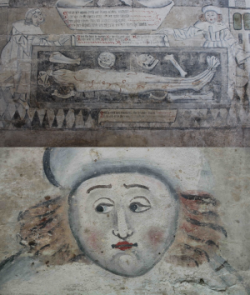 SPAB invites nominations for the award celebrating excellence in the repair to specific elements of places of worship of all denominations and faiths in England and Wales.
---
Civic Voice: Guidance tool for communities to identify local heritage assets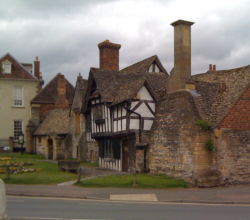 A resource developed as part of Civic Voice's Big Conservation Conversation and their 'Local Heritage List' campaign.
---
The economic value of culture - a benefit transfer study on museums in England
New research has been published to help understand the visitor and non-visitor value of cultural engagement at 4 cultural institutions in England – is this transferrable?
---
Former housing minister Nick Raynsford issues warning on planning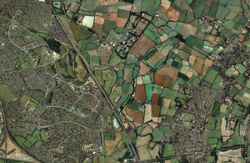 He writes that it has been reduced to a 'chaotic patchwork' of responsibilities which is not compatible with promoting the health, wellbeing and civil rights of communities.
---
DCMS revises - Principles of Selection for Listed Buildings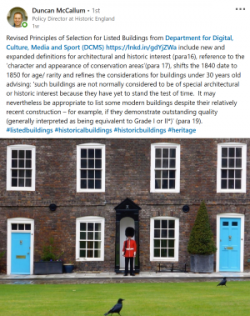 The Department for Digital, Culture, Media and Sport (DCMS) has issued its revised 'Principles of Selection for Listed Buildings' with new dates, definitions and more.
---
Specialist contractors call for government regulation of the construction industry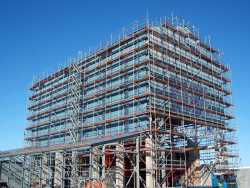 The chairman of the Specialist Engineering Contractors' (SEC) Group wants to government to set up a statutory authority to regulate construction industry practice.
---
Brexit skills shortages - survey

Add your company's take to the largest-ever poll on Brexit skills shortages.
---
Slow progress on encouraging female apprentices to construction industry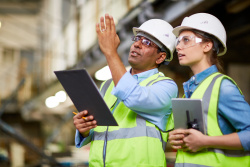 With 88% male in 2016/17 industry initiatives to encourage young women to join the construction industry do not appear to be making much headway.
---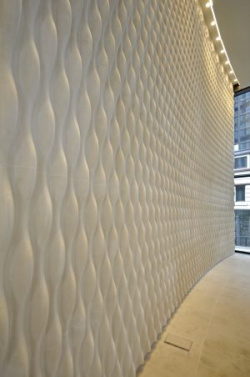 Water-jet cutting of stone changes the industry, but only so far!
---
Nuclear archive wins Andrew Doolan Best Building in Scotland Award for 2018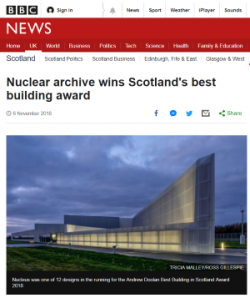 A national archive for the civil nuclear industry by Reiach & Hall Architects has won a top Scottish architecture prize: the Andrew Doolan Best Building in Scotland Award for 2018.