Roman Colosseum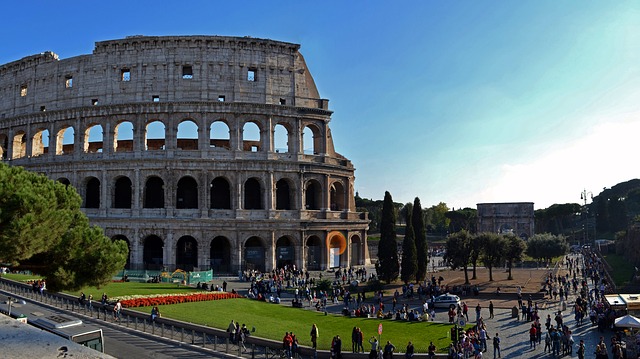 [edit]
Introduction
The Roman Colosseum, located in Rome, Italy, is the largest amphitheatre ever built and one of the most famous buildings in the world. Located near the Roman Forum, construction began on the Colosseum in AD 72 under the emperor Vespasian. It was completed in AD 80 under his heir Titus, and further modifications were carried out during the AD 81-96 reign of Domitian.
The Colosseum was used by the Romans to stage gladiator events and other public spectacles such as executions, dramatic performances and mock-sea battles. It is estimated that it could hold between 50,000 and 80,000 spectators.
The monumental scale and size of the Colosseum, as well as the innovative design for accommodating and controlling large crowds, mean it is one of the greatest architectural achievements of the Roman era.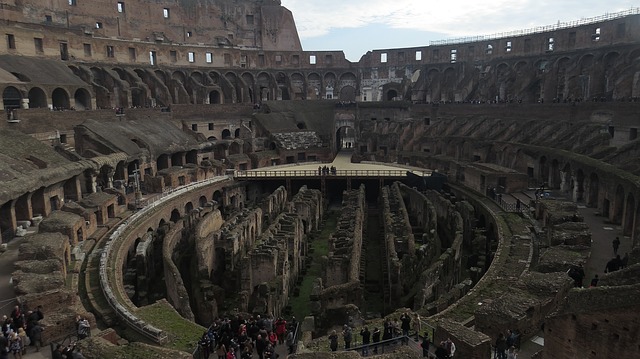 The Colosseum takes the form of a vast ellipse 527 m (1,729 ft) in circumference. It reaches a height of four storeys, 48 m (157 ft).
The strength and durability of the building was enhanced by the combination of concrete, sand and stone that were used during the construction. The foundations are made of concrete, the piers and arcades are made of travertine, tufa infill was used between piers for the walls of the lower two levels, and brick-faced concrete used for the upper levels and the majority of the vaults. Special roads were constructed to allow more than 100,000 m3 of travertine stone to be transported to Rome from quarries near Tivoli.
The building stands on a double-stepped base, with three storeys of classical arcades and a fourth storey with small rectangular windows. Arches on the four axes of the building served as the main entrances, and a further 76 numbered arches allowed access to the seats.
All the classical orders of architecture are included in the Colosseum's design, recognisable mainly by the types of columns used. The ground floor half columns are Tuscan, the second floor semi-columns are Ionic, and the third floor Corinthian. At the top, brackets and sockets carry the masts from which a velarium was suspended, a canopy to protect spectators from the sun and rain.
Beneath the wooden arena floor was a hypogeum, a complex arrangement of rooms and passages, provided storage for animals and equipment that were used in the shows.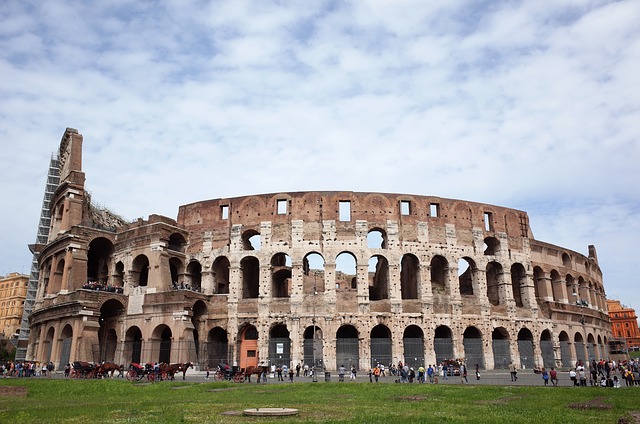 The Colosseum went through several changes during the medieval period, and housing and workshops were created in the vaulted spaces in the arcades beneath the seating and rented to locals.
Around 1200, the Frangipani family fortified the Colosseum and lived in it as a castle. An earthquake in 1349 caused severe damage, collapsing the outer south side that was built on unstable alluvial ground.
In 1749, Pope Benedict XIV pronounced the Colosseum was a sacred site, as it was a place where early Christians had been martyred by the Romans. Accordingly, he consecrated the building and forbade its use for commercial purposes.
Various stabilisation and restoration projects were initiated by succeeding Popes, including the removal of vegetation which had been allowed to take hold inside and threatened further damage. In the early 19th century, triangular brick wedges were used to reinforce the façade, and repair work was carried out on the interior over subsequent years.
A major restoration project was carried out between 1993 and 2000 which cost 40 billion lire. This was mainly to tackle the adverse effects of rainwater and pollution that had taken their toll on the structure. Restoration proposals continue, with a proposal to construct a new floor causing some controversy. Whatever future work is undertaken, the Colosseum remains one of the most popular tourist attractions in Italy, with several million people visiting it each year.
[edit]
Find out more
[edit]
External references
IHBC NewsBlog
IHBC South Branch Conference - Yearning for Timelessness


The conference on October 26 will look at 'Modern architecture in historic settings' with expert talks and site visits offering top-notch CPD with exceptional settings.
---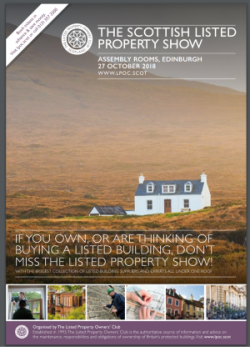 Don't forget your free IHBC CPD & more for members and colleagues: 27 Oct, Edinburgh (Book ahead for free entry) with IHBC Scotland.
---
Topical CPD focusing on curtilage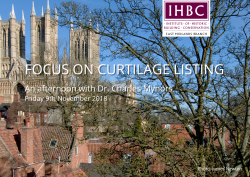 IHBC East Midlands branch will be hosting an afternoon with Charles Mynors, the leading authority on heritage law, on Friday 9 November in the Lincoln City Council Chamber.
---
IHBC Belfast School Context now out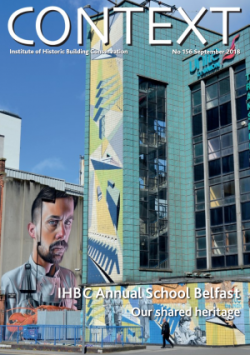 'Our shared heritage', with thanks to all, including Main School Sponsor and HESPR member 'Heritage Collective'.
---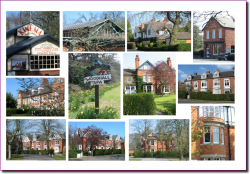 Lincolnshire local authority's 'national first' offers a new approach to Conservation Area controls – two Article 4 Directions with a Local Development Order (LDO).
---
IHBC's Policy Chair Roy Lewis notes the award of costs against Lambeth Council in a recent appeal which emphasises the importance of doing site visits!
---
IHBC - VAT reminder - LPOC Campaign 10K target signatures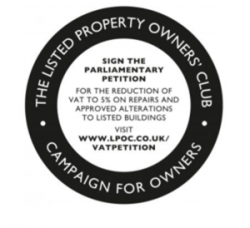 Sign the LPOC's petition to the Chancellor if you agree with the IHBC, that '…it is perverse that repairs should be subject to VAT when new development is not'.
---
IHBC HESPR top pick from £205K+ costed work this week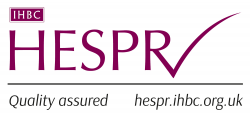 Braintree DC seeks Conservation Area Appraisals – closing 26/10, valued £10-25,000.
---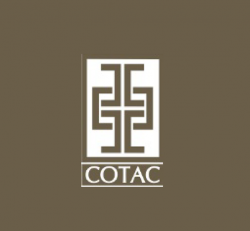 COTAC, the Council on Training in Architectural Conservation, seeks trustees with notes of interest by 15 November.
---
FMB says MAC recommendations would cripple construction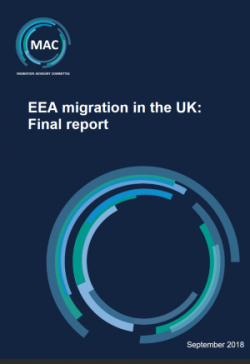 The Migration Advisory Committee's recommendations for new immigration policy post-Brexit, would cripple the construction industry, says Federation of Master Builders.
---
New government investment aimed at overcoming barriers to building in England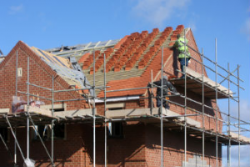 Government has established investment to tackle issues on potential housing sites and get homes built in parts of England where they may be most needed.
---
IHBC Heritage from the doorstep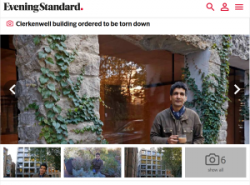 The Evening Standard has reported that an architect has been ordered to tear down award winning £4.65m home in Clerkenwell.
---
HE National Capacity Building Programme launched – closing 4/11
Historic England has launched the programme for projects running for 1 year max with a deadline for submitting grant applications 4/11/18 and funding to begin from 1/04/19.
---
Planning (Scotland) Bill – Briefing by BEFS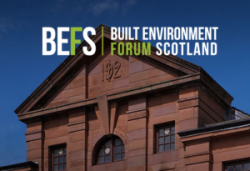 Built Environment Forum Scotland (BEFS) has issued a briefing on the Planning (Scotland) Bill.
---
England's youngest Civic Society chair elected to Birmingham Civic Society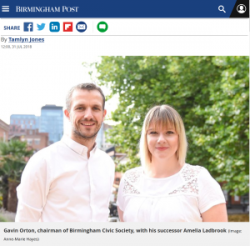 26 year old Amelia Ladbrooke has been elected as the chair of Birmingham Civic Society, and is the youngest ever Civic Society chair in England.
---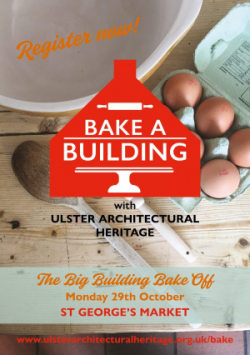 Ulster Architectural Heritage (UAH) and Food NI invite you to BAKE A BUILDING for the Big Building Bake Off at St. George's Market, 29 October 12-3pm.