Planning for sustainable historic places
In the heritage sector, sustainable development should be discussed not only in terms of efficient building performance, but also in the wider context of place and planning.
---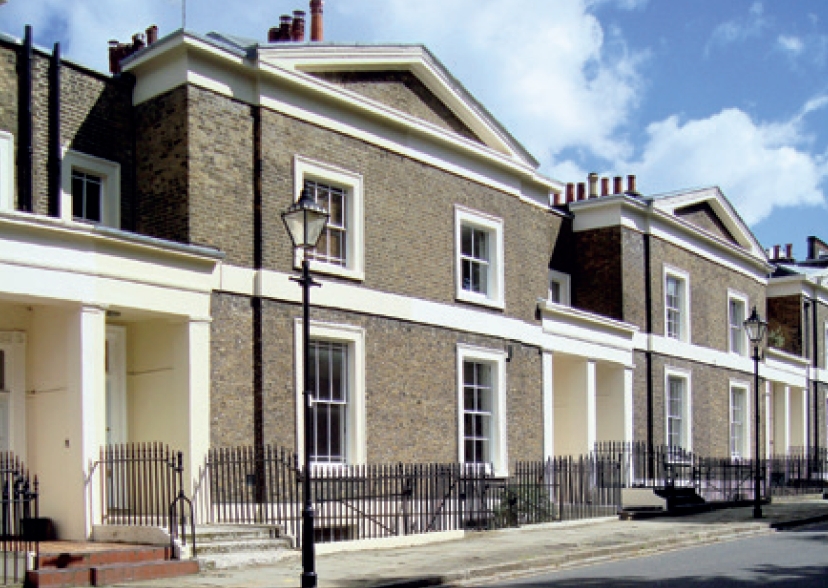 [Image: The Lloyd Baker estate in Islington, London: a historic area showing the best of urban design qualities. Dave Chetwyn.]
Those who plan for historic places need to assess the sustainability values of the area (social, economic, environmental) in addition to understanding heritage values.
Such analysis needs to address uses, live / work patterns, movement, and other factors, such as:
Pedestrian permeability and connectivity. Historic layouts tend to be more permeable and convenient for pedestrians. Clearly, some new towns deal with pedestrian and vehicular movement in a very different way. But traditional historic street layouts were a result of meeting pedestrian need.
Mixed use. Historic areas have developed incrementally over time and usually have a finer grain of mixed use, reducing the need for car-based journeys. Sometimes there are residential uses located above commercial uses. There is a greater tendency to single use where places have been comprehensively redeveloped.
Building patterns. Historic centres often include high density, party-wall construction, with active street frontages. Such urban patterns represent an efficient use of land.
Urban design analysis often shows that historic areas have superior characteristics in terms of layouts, mixed use, concentrations of facilities, permeability and other characteristics. Good planning can build on these qualities.
It is also important to recognise the different ways in which historic buildings and areas support sustainable and inclusive economic growth, and fulfill community needs. This is often through the natural process of growth and decline, and resulting changing property values.
Most city and town centres have transitional areas, where traditional industries or commerce have declined, leading to suppressed property values. In such areas, historic buildings are often the means to providing flexible and affordable accommodation, essential to supporting enterprise, creative businesses, knowledge-based business, social enterprises, specialist goods suppliers and minority goods. So heritage can help to deliver not just more sustainable, but also more inclusive growth.
New development in historic areas can make places more sustainable or, if poorly conceived and designed, less. Groups involved in preparing neighbourhood plans often address heritage issues, either through specific heritage policies or through land use, growth, urban design and other policies that impact on how historic buildings are used, and on how historic areas adapt to meet the needs of current and future generations.
In relation to planning policies, the National Planning Policy Framework (NPPF) defines sustainable development as having social, economic and environmental dimensions. So heritage is considered by neighbourhood planning bodies as an integral part of the wider social, economic, and environmental planning of the area.
The basic conditions that neighbourhood plans must meet include achieving sustainable development. Achieving sustainable development could address various issues:
Integration. Ensuring that new development integrates with established centres is essential, in particular through consideration of pedestrian connectivity and permeability. Ease of movement is not just about pedestrian convenience; it can fundamentally affect the viability of shopping areas.
Land use. Use policies are a means to supporting diversification, allowing existing centres to adapt to modern needs. For example, policies could support food, drink, recreational and cultural uses in retail areas, or commercial uses in agricultural buildings. Policies can also encourage and enable employment development and community facilities, as part of a balanced mix of uses.
At a more strategic level, the serious discrepancies in economic performance between different parts of the country represents a serious threat to sustainable growth. Land and house-price inflation are severe problems in some parts of the country, especially London and the south east.
At the same time, there are many parts of the country where the development sector has yet to recover from the economic problems of almost a decade ago. In other areas, there is an imbalance between costs of housing and the strength of the local economy, fuelled by a range of factors such as second-home ownership and commuters (in Cornwall and rural Norfolk, for example). In many rural areas, high house prices exclude many working in the rural economy.
Less than a decade ago, the housing pathfinders were based on a broad-brush view that there was an over-supply of housing in those areas and a need for managed decline. This led to the destruction of many houses, without proper consideration of alternative strategies involving retention and creation of demand. It is now difficult to reconcile this with the current emphasis on the national housing crisis. It is interesting to note that heritage bodies like SAVE rigorously campaigned against the pathfinders at the time.
The aftermath of this policy is still to be seen in areas such as Liverpool and Stoke-on-Trent. In fact, the issue for such housing is one of under-demand and economic viability. The challenge is in how to incentivise employment-creating development in these areas, so as to create demand for residential properties, making their refurbishment more viable. The problem is one of geographical economic imbalance.
Managed decline is a negative and unsustainable concept. It is planning for failure. Just a few decades ago the waterfront and city centre in Liverpool were the subjects of a debate about managed decline. Thankfully those arguing for managed decline lost and the Albert Dock was listed. Today Liverpool is a vibrant city centre and the waterfront was recently voted in an RTPI poll as the greatest place in England.
The challenge for the heritage sector is in reconciling heritage conservation with the need to create fit-for-purpose, sustainable and inclusive places. For professional heritage practitioners involved in managing or supporting change, a complex range of factors is involved, including land use, transport, movement, permeability, townscape, economic development, town centre viability and numerous other factors.
So building performance is part of a much bigger picture for heritage and sustainability, with social, economic and environmental dimensions. Indeed, it is not sustainable practice to improve the performance of a building, if it then accommodates a new use in an unsustainable location.
There is an apparent mismatch between the sometimes narrow 'buildings' focus on sustainability and the way it is being addressed by those who live, work and own property in historic buildings and areas. This is especially the case for those who are now involved in planning for the future development of their areas through neighbourhood plans or community-led development, the latter sometimes including taking on heritage assets.
While not diminishing the importance of retrofitting, there is a problem if this is the sole focus, excluding consideration of what makes places sustainable. The challenge for national heritage bodies is on how best to support people and groups actively involved in conservation in different localities. To achieve this, a comprehensive and all-encompassing perspective is required. To focus on building performance in isolation rather misses the point
---
This article originally appeared in IHBC's Context 150, published in July 2017. It was written by Dave Chetwyn, managing director of Urban Vision Enterprise and of D2H. A former chair of the IHBC, he chairs the institute's communications and outreach committee.
--Institute of Historic Building Conservation
Find out more
IHBC NewsBlog
IHBC FREE CPD Boost - Easy Access Webinar from Historic England and the IHBC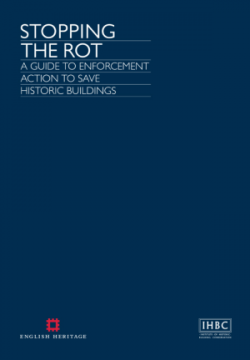 'Enhancing conservation areas & townscapes with S.215s', 13 December - numbers limited so book now!
---
IHBC Out of Context - CPD check-up and prize


'Who said that and what would you say back? FREE BS7913 for the best responses…
---
IHBC CPD boost: bite-sized briefings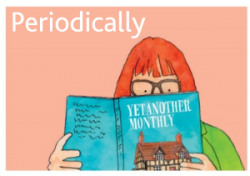 'Periodically', Bob Kindred's bite-sized briefings from the best of current heritage handbooks.
---
IHBC CPD Green Issue QuickQuiz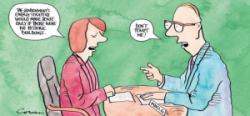 Do you know the ABCs of EPCs?
---
IHBC CPD Green Issue QuickQuiz Part 2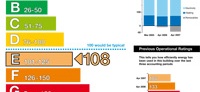 Do you know the ABCs of EPCs? - The answers! You tested your knowledge on energy performance certificates (EPC's) in the last Newsblog so now see how well you did!
---
IHBC at Listed Property Show London 2019 – FREE CPD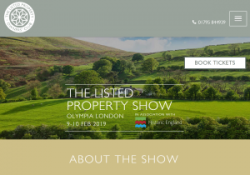 4 hours free CPD via IHBC and partners + lots more at the show in association with Historic England, on 9-10 February 2019 at London's Olympia.
---
IHBC launches new Toolbox Guidance Note for small traders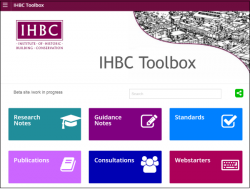 IHBC's latest Guidance Note in our Toolbox aims to provide sole practitioners and small traders with advice on taking on new work, offering 'Ten Red Flags' to watch out for.
---
Scotland - Historic Environment Audit (SHEA) 2018 is now out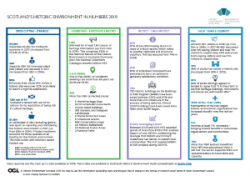 HES lead officer, Karen Robertson, has offered her personal blog looking at the trends and findings.
---
Slate Landscape of North-West Wales - preferred UNESCO World Heritage Site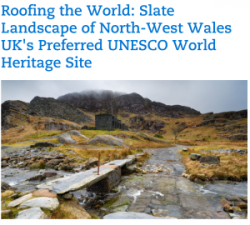 The Slate Landscape of North-West Wales will be the UK's next preferred nomination for UNESCO World Heritage Site status, Heritage Minister Michael Ellis announced recently.
---
Draft Parliamentary Buildings (Restoration and Renewal) Bill for Palace of Westminster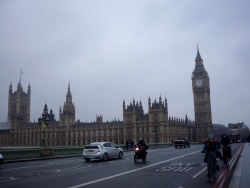 The draft Bill has been presented to allow 'interested parties the opportunity to consider the approach taken to the governance of the Restoration and Renewal Programme'.
---
APPG for Healthy Homes & Buildings White Paper published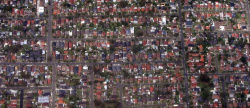 The White Paper highlights 'the need for a holistic approach to building design and renovation'.
---
Register English Community Assets on CAsE and you could win £100 gift voucher
The Architectural Heritage Fund (AHF) asks if you own or manage a community asset that you register it on the new Community Assets Exchange - you could win £100 gift voucher.
---
North of Tyne gets £600m devolution deal
Northern Powerhouse minister Jake Berry has confirmed a £600 million devolution deal for the North of Tyne. It is expected to generate £1.1 billion for the local economy.
---
Fifteen projects reach final of Heritage Angel Awards Wales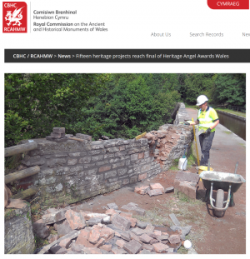 Fifteen outstanding examples of heritage achievement have been selected for a Heritage Angel Award by a panel of judges headed by Baroness Kay Andrews.
---
Entries open for 2019 John Betjeman award: Closing 26 Feb 2019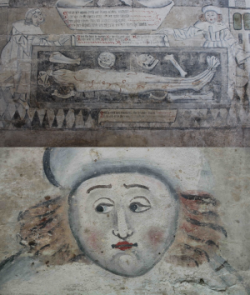 SPAB invites nominations for the award celebrating excellence in the repair to specific elements of places of worship of all denominations and faiths in England and Wales.
---
Civic Voice: Guidance tool for communities to identify local heritage assets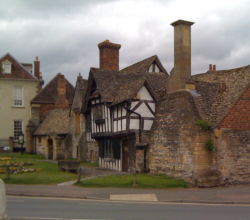 A resource developed as part of Civic Voice's Big Conservation Conversation and their 'Local Heritage List' campaign.
---
The economic value of culture - a benefit transfer study on museums in England
New research has been published to help understand the visitor and non-visitor value of cultural engagement at 4 cultural institutions in England – is this transferrable?
---
Former housing minister Nick Raynsford issues warning on planning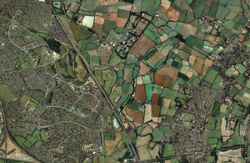 He writes that it has been reduced to a 'chaotic patchwork' of responsibilities which is not compatible with promoting the health, wellbeing and civil rights of communities.
---
DCMS revises - Principles of Selection for Listed Buildings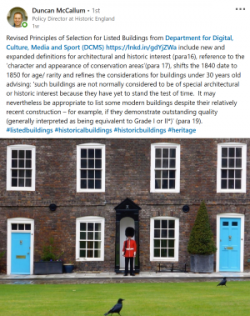 The Department for Digital, Culture, Media and Sport (DCMS) has issued its revised 'Principles of Selection for Listed Buildings' with new dates, definitions and more.
---
Specialist contractors call for government regulation of the construction industry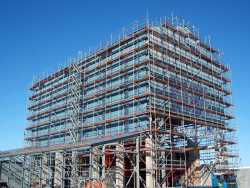 The chairman of the Specialist Engineering Contractors' (SEC) Group wants to government to set up a statutory authority to regulate construction industry practice.
---
Brexit skills shortages - survey

Add your company's take to the largest-ever poll on Brexit skills shortages.
---
Slow progress on encouraging female apprentices to construction industry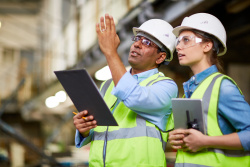 With 88% male in 2016/17 industry initiatives to encourage young women to join the construction industry do not appear to be making much headway.
---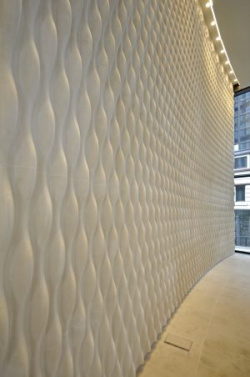 Water-jet cutting of stone changes the industry, but only so far!
---
Nuclear archive wins Andrew Doolan Best Building in Scotland Award for 2018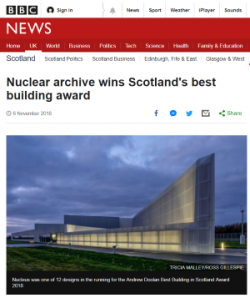 A national archive for the civil nuclear industry by Reiach & Hall Architects has won a top Scottish architecture prize: the Andrew Doolan Best Building in Scotland Award for 2018.