Milton Keynes 2050 vision
This article originally appeared in the IHBC NewsBlogs
---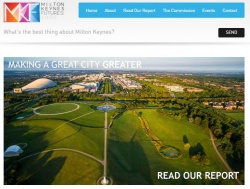 The heritage of Milton Keynes is increasingly well recognised, and is a small but important thread in a report by a commission of independent experts which considered what sort of city Milton Keynes could become by 2050.
The report suggests that by 2050 Milton Keynes could be home to 400,000 residents and be recognised internationally as a centre of learning and innovation at the heart of a cluster of high-performing universities in the Cambridge- Milton Keynes-Oxford Arc.
The report also urges that: '…future plans respect the city's distinctive heritage – Milton Keynes' landscape is a gift that keeps on giving – and ensure that future generations will enjoy the city's beauty.'
The approach is best reflected in its 'Project Six', Milton Keynes - The Creative and Cultured City which states that Milton Keynes is 'a uniquely created cultural artefact, with a priceless cultural, sport and leisure asset base, this will harness the creative energy and motivation of the city's biggest assets, its people. Using the 50th anniversary as a platform and building from the Capital of Culture bid, this would start with an International Festival of Creative Urban Living linking to innovation as well as culture, with a festival of urban green space and architecture, designating a grid square of sport, and arts, music and dance programme and animating the city's rich heritage.'
Read the summary and full report on the Milton Keynes Futures website
---
Featured articles and news
Historic England publishes Heritage Crime Guidance for Sentencers update
The IHBC has welcomed HE's update, designed to assist Judges, Magistrates and their legal advisers in determining the appropriate sentence for a heritage crime.
---
IHBC 2017 Manchester School is looking for friends
Use your network to join ours, absolutely free! (Limited Offer) as we are offering a chance for sector organisations to have a free place on our School website as a 'Friend'.
---
RTPI on Industrial Strategy and missing links
The RTPI has outlined its response to the UK Government's 'Industrial Strategy' saying 'it fails to link up with other government strategies such as housing and the environment'.
---
Residents in luxury Southbank flats sue Tate Modern over intrusion to privacy
Residents of the Neo Bankside flats on London's Southbank are suing Tate Modern over its public balcony which allows gallery-goers to look straight into their luxury apartments.
---
London pub numbers drop by a quarter – mayoral consultation seeks to halt the decline
London Mayor Sadiq Khan has branded as 'shocking' that London has lost 1,220 pubs since 2001 and seeks suggestions via a consultation ending on 31 May.
---
EU Prize for Cultural Heritage and Europa Nostra Awards 2017
Winners announced on 5 April 2017 include two UK winners - Cromford Mills Building, Derbyshire, and Samphire Maritime Project in western Scotland.
---
Guardian headline feature on economic opportunities for historic swimming pools
The feature explores Manchester Victoria Baths funding event which sold out quicker than Glastonbury and is the latest in a long line of projects to restore historic swimming pools.