Milton Keynes 2050 vision
This article originally appeared in the IHBC NewsBlogs
---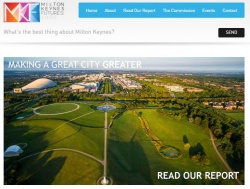 The heritage of Milton Keynes is increasingly well recognised, and is a small but important thread in a report by a commission of independent experts which considered what sort of city Milton Keynes could become by 2050.
The report suggests that by 2050 Milton Keynes could be home to 400,000 residents and be recognised internationally as a centre of learning and innovation at the heart of a cluster of high-performing universities in the Cambridge- Milton Keynes-Oxford Arc.
The report also urges that: '…future plans respect the city's distinctive heritage – Milton Keynes' landscape is a gift that keeps on giving – and ensure that future generations will enjoy the city's beauty.'
The approach is best reflected in its 'Project Six', Milton Keynes - The Creative and Cultured City which states that Milton Keynes is 'a uniquely created cultural artefact, with a priceless cultural, sport and leisure asset base, this will harness the creative energy and motivation of the city's biggest assets, its people. Using the 50th anniversary as a platform and building from the Capital of Culture bid, this would start with an International Festival of Creative Urban Living linking to innovation as well as culture, with a festival of urban green space and architecture, designating a grid square of sport, and arts, music and dance programme and animating the city's rich heritage.'
Read the summary and full report on the Milton Keynes Futures website
---
Featured articles and news
IHBC asks you to contribute to the debate on gentrification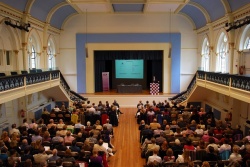 The Guardian reports on the dangers of gentrification - join the debate at IHBC NewsBlogs
---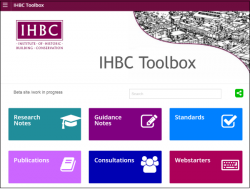 Our Toolbox offers easy access to the essential tools in conservation practice including links to Standards, 22 Practice notes, Consultations and much more.
---
Churchill Barriers to be listed

Second World War structures at Scapa Flow have been recognised as being of national importance by Historic Environment Scotland (HES).
---
Historic brick reservoir image wins award
The image of a covered reservoir in London's Finsbury Park has won the best architecture photograph of the year at the Arcaid Images Architectural Photography Awards 2016.
---
Westminster City Council gains approval for Special Policy Areas
The London Council's plans are given the go-ahead to management development in five unique specialist clusters.
---
Property Flood Resilience Action Plan out
An independent report has been issued relating to flood protection, aiming to help with flood resilience.