Lime run-off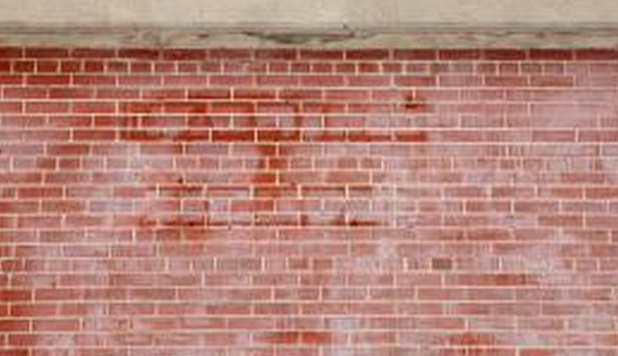 Lime run-off, also known as lime staining, describes an effect that can come about when excess water flows through cementatious material. This water can dissolve calcium hydroxide (free lime) which is then deposited on the brick face. The calcium hydroxide is a soluble form of lime which is created as Portland cement hydrates.
The source of the lime may be the cement from mortar joints or it may come from concrete or cast stone elements; for example, a coping above a brick wall or a floor slab built into the brickwork. Lime material washed from mortar joints can be due to a lack of adequate protection against rainfall during construction.
The run-off is often seen 'dribbling' from weep holes or fine separation cracks between brick and mortar joints. The calcium hydroxide reacts with carbon dioxide in the air producing a hard crystalline formation of calcium carbonate.
It is common for lime run-off to be mistaken for efflorescence. The primary differences are that it typically originates from mortar joints rather than the bricks themselves, and it does not disappear on wetting.
The initial staining can be removed with water and brushing before it carbonates. A bristle brush and water can be used but care must be taken not to damage the face of the bricks. Once reaction has taken place, an acid solution will be necessary because the hard crust that forms when the lime has started to carbonate is much harder to remove. The wall should be pre-dampened to minimise suction and a brick-cleaning solution carefully applied with a paint brush to dissolve the lime. If it has not disappeared after two or three attempts at ligh scrubbing with a bristle brush and water then it may require more specialist treatment.
It is easier to prevent lime run-off from occurring than to try and cure it, particularly where the structure is in close contact with concrete or cast stone which may be a risk in terms of lime migrating into the brickwork. Some of the prevention techniques that can be used both before and during construction include:
IHBC NewsBlog
IHBC NI Branch and Heritage Collective thank all for a hugely successful Annual School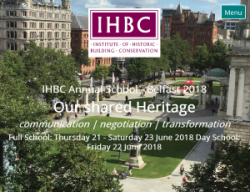 The NI Branch, alongside the School's main sponsors, Heritage Collective, have offered their collective thanks to all concerned for 'Shared heritage in action'!
---
IHBC CPD boost: Caithness Broch Project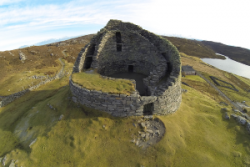 Scotland has played a huge part in architecture, design and engineering - the 'Broch', apparently found only in Scotland, could be described a marvel of engineering legacy.
---
Unesco announces range of new World Heritage Sites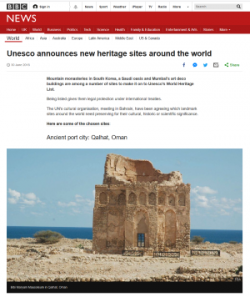 Mountain monasteries in South Korea, a Saudi oasis and Mumbai's art deco buildings are among a number of sites to make it on to Unesco's World Heritage List, reports the BBC.
---
New APPG formed on good design and placemaking is supported by ACE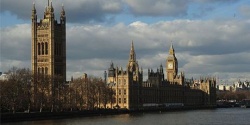 The APPG, formed to ensure housing issues are prioritised, will be provided with secretariat services from the Association for Consultancy and Engineering (ACE).
---
Planning appeal inquiries review with terms of reference announced for England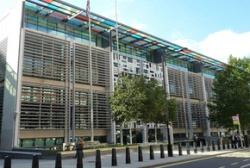 A Planning appeal inquiry review was announced by England's Ministry of Housing, Communities and Local Government (MHCLG) on 22 June 2018.
---
Hand-Arm Vibration Syndrome (HAVS) failures cost Balfour Beatty £695K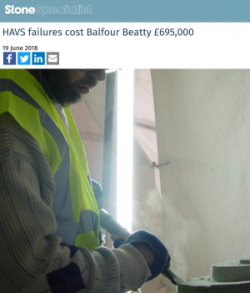 Contractor Balfour Beatty Utility Solutions fined £500K with costs of £195K for exposing workers to HAVS over a 9 year period and failing to report cases.
---
Launch of UK's Great British High Street competition 2018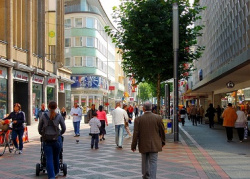 Communities across the UK are being urged to back their local high streets by entering them into the Great British High Street Awards 2018.