James Crawford - Fallen Glory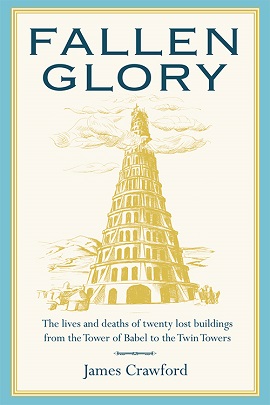 James Crawford – 'Fallen Glory: The Lives and Deaths of Twenty Lost Buildings from the Tower of Babel to the Twin Towers'
Published by Old Street Publishing (Nov 2015)
---
Most successful books are driven by characters around which a narrative can be woven and stories effectively told. The lead characters in James Crawford's 'Fallen Glory' are buildings or structures that are no more.

As the author writes in the introduction: 'Even the longest human life barely exceeds a century. How much more epic are the lives of buildings, which can endure for thousands of years? Unlike the people who made them, these structures experience not just one major historical event, but a great accumulation of them... Buildings have the potential to be the ultimate raconteurs.'
It is with this spirit of telling stories through buildings that Crawford embarks upon his work, a well-researched and compelling guide that seldom loses momentum in more than 500 pages. As well as examining each of his buildings from a conventional historical angle, he also revels in the socio-political milieu of the particular time, the ideals and aspirations of the people who erected them as well as those that tore them down.
While almost all of the structures included will be of some measure of familiarity to the reader – the Tower of Babel, the Roman Forum, the Old St. Paul's Cathedral, the Bastille, the Berlin Wall, the Twin Towers of the World Trade Centre – each chapter offers engrossing new interpretations that will shine fresh light on their significance. While occasionally the author might overstretch himself with the ambition of some parallels drawn, such as trying to find the physical blueprint for the internet in the anarchic pell mell of Hong Kong's Kowloon 'Walled City', for the most part the conclusions he offers up are engaging and thought-provoking.
Key to the book's success is the way Crawford elucidates fine points of detail that lend real colour to the individual narratives. The 76-year-old Christopher Wren watching from below as his son is raised by crane to place the final stone on the lantern of the new St. Paul's Cathedral that Wren had seen through to completion from the devastating Great Fire. Or, the utilitarian philosopher Jeremy Bentham's frustrated efforts to get political approval for his Panopticon 'grand plan', the design of which could be said, and it is by Crawford, to have preempted the modern 'surveillance state'. Or, the parallel lives of two talented yet disaffected architects, one of whom grew up to design the Twin Towers, whilst the other became one of the hijackers who brought them down on 9/11.
Crawford writes with a great amount of zeal and enthusiasm for his subject, and it is this style along with his attempt at drawing a line between what the buildings represented both then and in the present, that makes his book such enjoyable and highly recommended reading.
If any conclusions are to be drawn, it is that humans have long sought to pursue with hubristic design, the posterity and stature that an iconic building confers upon them and that, like the big ideas or societal systems that lay their foundations, they can be consigned to the dust of history almost in an instant.
Find out more about 'Fallen Glory' here.
[edit]
Find out more
[edit]
Related articles on Designing Buildings Wiki
IHBC NewsBlog
REMINDER – Gus Astley Student Award closing soon
Only 2 weeks left to win £500 and a free place in IHBC's 2018 Annual School as Student Award closes 31 July – 'Just send us your coursework, online and on time'!
---
IHBC Context 21 to 44 now online
From British Standard's pre-history to historic paints and decorative features view the historic environment practitioner's best source for accessible expertise in contemporary conservation.
---
IHBC CPD boost - Saving Art Deco heritage in Craigmillar
Historic Environment Scotland (HES) has highlighted how investing a little time and effort in older buildings can help Scotland's communities.
---
Stone carving tutor Nina Bilbey awarded Prince Philip Medal
Nina Bilbey is the Senior Stone Carving Tutor at City & Guilds, London Art School, the internationally highly respected centre of architectural and sculptural stone carving.
---
Research Council PhD Policy Internships Scheme - call closing August 10
The scheme provides an opportunity for Research Council-funded PhD students to work for three months in one of a selected group of highly influential policy organisations.
---
CultureisDigital the conversation on culture and digital technology working better together
Contains public sector information licensed under the Open Government Licence v3.0.

Join the conversation between Government, the cultural sector and tech companies on the digitisation of public collections and enhancement of online cultural experiences.
---
Infrastructure systems for a better world - apply for funding from innovate UK
Contains public sector information licensed under the Open Government Licence v3.0.
If you're a UK business or research organisation you can apply to Innovate UK for a share of £15 million to develop innovative infrastructure solutions – deadline 13 September 2017.
---
Saving closed chapels and churches in Wales for future generations
WalesOnline focuses on Carmarthen as it explores 'thinking outside the box' in creating new uses for places of worship to ensure the historic buildings survive for years to come.