IHBC social networks exceed 14,000
This article originally appeared in the IHBC NewsBlogs
---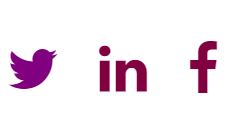 In September 2016, IHBC thanked its active social media volunteers who have helped membership numbers on its core networks to pass 14000 with, as of 22 August, the following membership spread: Linkedin: 5707; Twitter: 6651, and Facebook, with 1723 likes.
IHBC Director Seán O'Reilly said: 'This is a great achievement both for the institute for our many volunteers and members who have helped so much in extending our digital networks'.
'Only 2 years ago numbers stood at less than 8500, so passing 14,000 now confirms both a more substantial recognition of our brand, as well as the wider constituency of interested players relying on our work. Of course such numbers offer a simplistic measure, but they do also correlate to increased success with our business operations, including our very popular Jobs etc service, so these developments are significant to all our members and supporters'.
'It is interesting too that numbers have increased fairly consistently across all the main platforms we use, as we are seeing lots of interests from a wide sector of social media users. This is a good sign of our positive engagement with future generations of conservation practitioners, though that's not to say there isn't lots more work to be done in these areas'.
To join any of the IHBC's free social media platforms simply follow the links from our Home Page at www.ihbc.org.uk
External References
IHBC NewsBlog
REMINDER – Gus Astley Student Award closing soon
Only 2 weeks left to win £500 and a free place in IHBC's 2018 Annual School as Student Award closes 31 July – 'Just send us your coursework, online and on time'!
---
IHBC Context 21 to 44 now online
From British Standard's pre-history to historic paints and decorative features view the historic environment practitioner's best source for accessible expertise in contemporary conservation.
---
IHBC CPD boost - Saving Art Deco heritage in Craigmillar
Historic Environment Scotland (HES) has highlighted how investing a little time and effort in older buildings can help Scotland's communities.
---
Stone carving tutor Nina Bilbey awarded Prince Philip Medal
Nina Bilbey is the Senior Stone Carving Tutor at City & Guilds, London Art School, the internationally highly respected centre of architectural and sculptural stone carving.
---
Research Council PhD Policy Internships Scheme - call closing August 10
The scheme provides an opportunity for Research Council-funded PhD students to work for three months in one of a selected group of highly influential policy organisations.
---
CultureisDigital the conversation on culture and digital technology working better together
Contains public sector information licensed under the Open Government Licence v3.0.

Join the conversation between Government, the cultural sector and tech companies on the digitisation of public collections and enhancement of online cultural experiences.
---
Infrastructure systems for a better world - apply for funding from innovate UK
Contains public sector information licensed under the Open Government Licence v3.0.
If you're a UK business or research organisation you can apply to Innovate UK for a share of £15 million to develop innovative infrastructure solutions – deadline 13 September 2017.
---
Saving closed chapels and churches in Wales for future generations
WalesOnline focuses on Carmarthen as it explores 'thinking outside the box' in creating new uses for places of worship to ensure the historic buildings survive for years to come.