IHBC North West Branch Annual Conferences
This article originally appeared in the IHBC NewsBlogs
---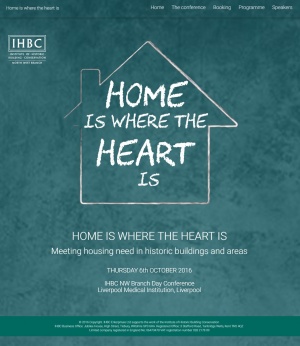 The ever popular IHBC North West Branch annual conference, which has covered such diverse topics as energy efficiency in historic buildings, empowering local communities, heritage and the 'high street' and technology in conservation, this year (2016) looks at meeting the housing need in historic buildings and areas.
'Home is where the heart is…' will take place in Liverpool on 6th October 2016.
Houses form the highest proportion of all heritage assets, whether purpose designed or later adapted to incorporate residential accommodation. Balancing the changing needs of homeowners whilst protecting the architectural and historic value of historic buildings continues to present ongoing challenges to architects and conservation professionals alike.
Meanwhile at a national level great efforts are being placed upon boosting the supply of new housing to the meet the demands of an increasing population and changing household structures. This has resulted in great development pressure within both urban and rural areas and heritage assets, historic buildings and or conservation areas, are no exception to this process.
This conference will explore the challenges of designing new homes within historic areas, consider how to sensitively adapt and convert historic buildings to meet the needs of existing and future occupants as well as highlighting examples of best practice both locally and nationally. It will be of interest to planners, architects, developers, property owners, amenity societies, and all those who manage and care for the historic environment.
See more at http://ihbconline.co.uk/newsachive/?p=13067
For more details and to book see housing.ihbc.org.uk
For past conferences see the IHBC North West Branch page on the IHBC website
External references
Featured articles and news
IHBC Gus Astley Student Award 2017 now open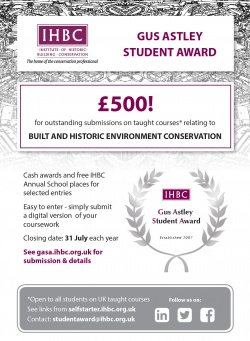 Send in your coursework on a taught course by 31 July for a chance to win a prize and attend the IHBC's Annual School in Belfast in June 2018.
---
Can Wellington (NZ) save its heritage buildings before it's too late?

---
Local military heritage at risk
The Daily Telegraph reports that many small regimental museums are to lose Ministry of Defence (MoD) funding by the end of next decade.
---
Heritage Open Days festival 2016 attended by millions
The Heritage Open Days (HODs) 2016 Impact Report shows an estimated 3 million visitors attending 5293 events with £10m for local economies.
---
International News - Cultural Protection Fund projects announced
The British Council has announced the initial projects to be supported by the Cultural Protection Fund, which will protect heritage overseas.