Hunky punk
A hunky punk is a colloquial variation of a grotesque carving, specific to the West Country of England, particularly Somerset.
A hunky punk is often a short squatting figure, usually an animal, carved in stone. The name apparently derives from a combination of the old English terms 'hunkers' meaning haunches, and 'punchy' meaning short-legged.
They are typically found on late-Gothic churches, although they can be found from middle-to-late medieval architecture onwards. They are typically positioned at the corner of a church tower, along the coping ridge below any crenellations.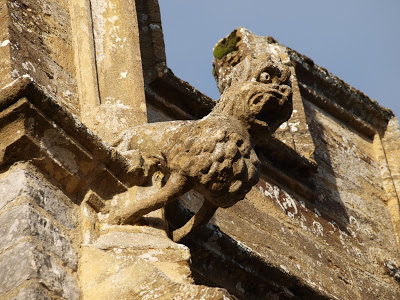 While similar in appearance to gargoyles, a hunky punk is actually a grotesque in that it is a purely ornamental architectural feature rather than having the function of draining water. However, Victorians did punch holes through some hunky punks to create rainwater downpipes.
The theory behind hunky punks and grotesques in general, was that churches were designed to reflect the balance between good and evil, reminding worshippers of the narrow path leading through life. As a result, for every saint or animal that was intended to signify purity and 'goodness', there was also an ugly creature to signify evil and 'badness'.
IHBC NewsBlog
IHBC - Heritage Project Management at Bishop Auckland with CIOB
On 18/19 October the IHBC, with CIOB and others will host this event offering practical insights into the working of heritage-led regeneration projects valued at some £90 million.
---
IHBC update on Historic England review of written advice and guidance
Pye Tait is carrying out an independent review of HE's online advice and guidance, and want to boost responses from local authority (LA) conservation officers in particular..
---
Medway Council seeks heritage interpretation strategy and delivery on HLF project, closing 1 September, valued £97,000.
---
DBW Context post - Sir Donald Insall on Chester Conservation Areas
Sir Donald Insall's article on 'Chester, conservation as positive action', written for the IHBC's Conservation Area anniversary issue of Context of March 2017 now on DBW.
---
DCLG publishes guidance on Brownfield Registers and Permission in Principle
The Department for Communities and Local Government guidance supports permission in principle and brownfield registers of land suitable for housing.
---
London Mayor - new planning rules to boost affordable housing
At least half the new homes built on public land in London will have to be affordable to benefit from faster planning permission under a new approach to development.
---
Places, People and Planning – BEFS response to the Position Statement
Built Environment Forum Scotland has submitted its response to the Scottish Government's position paper on the planning review.
---
SAVE and partners granted permission for judicial review on Paddington Cube decision
The High Court grants permission to challenge the Secretary of State for Communities and Local Government over refusal to call in Paddington Cube proposals for public inquiry.
---
Campaigners delighted as reconstruction work finally begins on Carlton Tavern
Work has begun, as a result of campaigners fight, on the reconstruction of a beloved pub the Carlton Tavern, Maida Vale which was knocked down illegally by its owners.
---
Scottish tour operator aims to correct misleading displays
A Scottish tour operator has set up a national 'history police' forum, allowing the public to report misleading or inaccurate information at museums and local information boards.