Harrogate in 1988
This article originally appeared as "An air of elegance?" in Context 18, published by the Association of Conservation Officers (now The Institute of Historic Building Conservation) in Spring 1988. It was written by Brian Godward, Harrogate BC.
---
A recent (1988) report on economic prospects for the North of England identifies three places in Yorkshire and Humberside that have "all the characteristics that the much-vaunted southern boom towns have to offer'. This list of 'Northern Lights' picks out Beverley, Thirsk and Harrogate. The authors state that such towns score particularly well in a 'quality of life' index designed to include, amongst others, Social and environmental factors.
This trio avoided the despoilations of the Industrial Revolution though all lie close to large cities. Further, they are urban focal points for affluent country districts, which have considerable attractions for the tourist and visitor. The 'odd one out' is Harrogate, a planned Spa town with largely Victorian origins.
Harrogate has the special character of homogeneity brought about by its development over a relatively short period. There are strong urban forms of stone terraces, crescents and avenues set amid open landscaping with many mature trees. The town centre is confined in part, by the open Stray or '200 Acres', giving a clean urban edge to older Harrogate.
Much of the success of Harrogate as a shopping and tourist centre is derived from this special character of elegance created by buildings and related gardens. This ambience has traditionally attracted a wealth of small-scale speciality shopping, selling classic fashions, jewellery, art and antiques as well as the more contemporary designer fabrics and boutiques. These fit harmoniously into the Victorian or Edwardian fabric adding variety and vitality to the shopping scene.
The Borough Council have produced a Shopfronts Guide outlining basic design principles. This is available to the public and it is notable that, from recent experience in the town, fewer applications are being received involving standardised aluminium and plastic fronts. Conversely, it is pleasing to note that more applicants are coming forward with proposals for well designed, 'bespoke' and traditionally based shopfronts. Design conscious multiples such as Laura Ashley, Next, Horne Bros., and 'K' Shoes have contributed good examples in James Street, reinforcing the argument that good quality in presentation will attract the customer.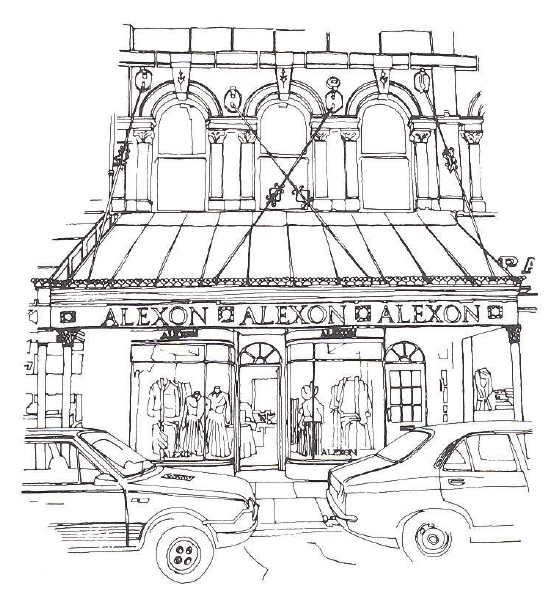 [James Street: A good example of a new shopfront and canopy well related to the original Victorian building. The house name is well in evidence whilst not being out of scale.]
The use of cast-iron and glazed canopies is traditional to Harrogate. They not only protect the shopper physically but extend the building into the street visually, thus unifying facades. One recent and significant example of a refurbishment to such is that at Betty's Cafe, Parliament Street. Betty's, based in several Yorkshire towns, are very much an institution and were awarded the prize for serving the 'best cup of tea in England' in 1987. The attractive Harrogate tea-shop is set overlooking the floral gardens edging the Stray, and, in restoring and refurbishing the shopfront and canopy, Architects Greenwood and Nicholas renovated the delicate brackets, tracery and trelliswork together with high-class signs.
The very success of Harrogate has brought with it the usual development pressures. The town largely avoided the excesses of large-scale post-war commercial developments (though there is one regrettably prominent example!) but there are proposals in the pipeline for at least two major sites in the town centre. Much care will be needed to ensure that these do not erode the special character and ambience of the town. The economic bouyancy of Harrogate should be geared to securing the reinforcement of the fabric, together with the careful management of the existing building stock, so extending the quality of homogeneity. Then Harrogate might feature in a future 'Northern Lights' survey as being 'Top-Town'!
--Institute of Historic Building Conservation
IHBC NewsBlog
IHBC - Heritage Project Management at Bishop Auckland with CIOB
On 18/19 October the IHBC, with CIOB and others will host this event offering practical insights into the working of heritage-led regeneration projects valued at some £90 million.
---
IHBC update on Historic England review of written advice and guidance
Pye Tait is carrying out an independent review of HE's online advice and guidance, and want to boost responses from local authority (LA) conservation officers in particular..
---
Medway Council seeks heritage interpretation strategy and delivery on HLF project, closing 1 September, valued £97,000.
---
DBW Context post - Sir Donald Insall on Chester Conservation Areas
Sir Donald Insall's article on 'Chester, conservation as positive action', written for the IHBC's Conservation Area anniversary issue of Context of March 2017 now on DBW.
---
DCLG publishes guidance on Brownfield Registers and Permission in Principle
The Department for Communities and Local Government guidance supports permission in principle and brownfield registers of land suitable for housing.
---
London Mayor - new planning rules to boost affordable housing
At least half the new homes built on public land in London will have to be affordable to benefit from faster planning permission under a new approach to development.
---
Places, People and Planning – BEFS response to the Position Statement
Built Environment Forum Scotland has submitted its response to the Scottish Government's position paper on the planning review.
---
SAVE and partners granted permission for judicial review on Paddington Cube decision
The High Court grants permission to challenge the Secretary of State for Communities and Local Government over refusal to call in Paddington Cube proposals for public inquiry.
---
Campaigners delighted as reconstruction work finally begins on Carlton Tavern
Work has begun, as a result of campaigners fight, on the reconstruction of a beloved pub the Carlton Tavern, Maida Vale which was knocked down illegally by its owners.
---
Scottish tour operator aims to correct misleading displays
A Scottish tour operator has set up a national 'history police' forum, allowing the public to report misleading or inaccurate information at museums and local information boards.