Edinburgh Castle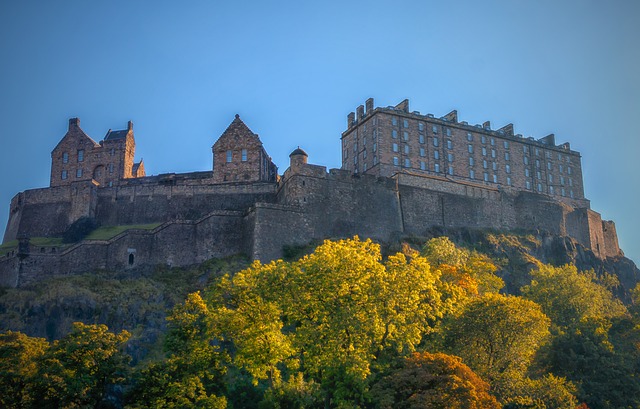 [edit]
Introduction
Edinburgh Castle is a military fortress and stronghold located at the top of the Royal Mile in Edinburgh, Scotland. It stands on a bed of volcanic basalt rock and has been a site of human occupation since the Bronze Age. Historians believe a royal castle has been situated there since the reign of David I in the 12th century, and it continued as a royal residence until 1633. In 1566, Mary Queen of Scots gave birth to James VI in the castle, who would become the King of England following the death of Queen Elizabeth I in 1603.
Due to its involvement in a number of historical conflicts, including the 14th century Wars of Scottish Independence and the 1745 Jacobite Rising, it is considered to be the most besieged castle in Scotland.
The castle's design, construction and function has changed many times over the centuries. Today, it is a popular tourist attraction and an iconic symbol of Scotland, featuring in particular as part of the annual Edinburgh Military Tattoo and the New Year's Eve celebrations.
The castle is actually a collection of buildings sitting in a fortress on top of an extinct volcano. The location is ideal for a stronghold, being protected by sheer cliffs with only one direction of approach.
It includes an interesting mix of designs and architectural styles, due partly to the modifications and additions that have been made over the centuries. At its centre is the oldest surviving part of the castle, St Margaret's Chapel which dates back to the early-12th century and is believed to be the oldest building in Edinburgh.
Few of the original castle buildings survived the 16th century Lang Siege, as most of the medieval defences were destroyed by artillery bombardment. The Royal Palace however was largely unaffected, as was the early-16th century Great Hall.
The Great Hall was built by James IV, and is the main place of state assembly in the castle. It measures 29 m x 12.5 m (95 ft x 41 ft), and has an imposing hammerbeam roof; one of only two medieval Scottish halls with an original roof of this kind. It is characterised by decorative carved-stone corbels, with intricate Renaissance detailing; although it is thought that much of the interior was altered from the mid-Victorian period onwards.
A prominent feature of the castle's east side is the circular, multi-layered Half Moon Battery. This was constructed as part of redevelopment works between 1573 and 1588, and designed as a defence against cannon fire. It was built around and over the ruins of the original David's Tower, of which two storeys survive beneath.
At the head of the Esplanade is the Gatehouse which was built in 1888 as a largely cosmetic architectural addition to the castle. Some years later the Gatehouse was flanked by statues of legendary Scottish heroes, William Wallace and Robert the Bruce.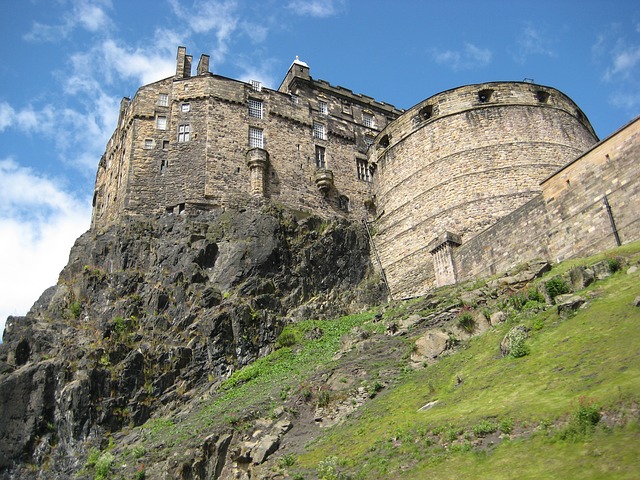 [edit]
Recent uses
The castle vaults were used to hold prisoners-of-war during the 18th century, particularly during the Seven Years' War, the American War of Independence, and the Napoleonic Wars. This necessitated the construction of several new buildings, such as the Governor's House, the New Barracks and several powder magazines and store houses.
In 1811, 49 prisoners managed to escape through a hole in the south wall, which forced the authorities to conclude that the castle was no longer fit for its purpose. No prisoners were held in the vaults after 1814 (other than temporarily during the First and Second World Wars), and shortly after, the castle began to assume the role of a national monument and was gradually opened to the public.
Responsibility for the castle passed to Historic Scotland in 1991. In 1993, the castle was designated a Scheduled Ancient Monument, with 24 separate listings awarded to its various buildings and structures.
In 1995, the Old and New Towns of Edinburgh, including the castle, were classified as a UNESCO World Heritage Site. In 2016, a report from Edinburgh World Heritage, found that residents, visitors and businesses attach an economic value of between £1.2 – £1.4 billion to Edinburgh's World Heritage Site. See Edinburgh world heritage site valued at over 1 billion for more information.
The castle has become Scotland's most popular tourist attraction, with annual visitor numbers reaching 1.4 million.
[edit]
Find out more
Scheduled Ancient Monument.
[edit]
External resources
IHBC NewsBlog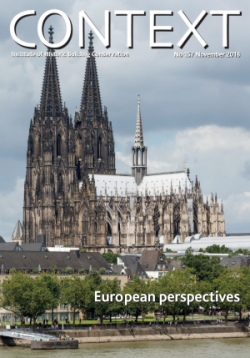 'European Perspectives' in Context 157, includes Jokilehto on 'Concerning Heritage', 'Brexit' takes and more.
---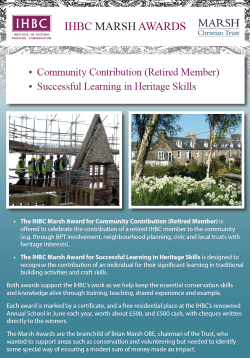 Nominate for the IHBC Marsh Awards 2019 – Celebrate OUTSTANDING retired IHBC members, and SUCCESSFUL new Heritage Learners – Closing 28 Feb!
---
IHBC HESPR top pick from £200K+ costed work this week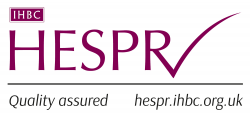 The National Heritage Memorial Fund (NHMF) seeks 'Parks for People' impact assessment, closing 28/01, value £55-60k.
---
Locally-driven approach is needed to rejuvenate town centres
Expert retail industry panel, the Town Centres Expert Panel, calla for a community-focused approach to tackling the challenges facing high streets and town centres.
---
BEIS Committee energy efficiency inquiry - deadline of 17 January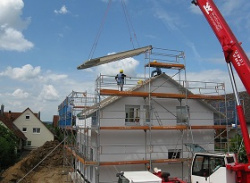 Business, Energy & Industrial Strategy Committee inquiry into Government's approach to delivering energy efficiency improvements to buildings – submissions deadline 17/1.
---
Heritage Lottery Fund: 'Updated Policy Directions' issued by DCMS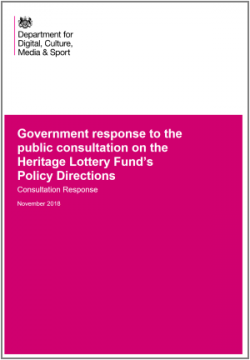 Following consultation, updated policy directions have been issued to the Heritage Lottery Fund (HLF) in its role as a distributing body of National Lottery funds.
---
BSI: UK to maintain European standards position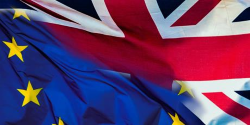 European Standards Organizations have approved a plan to secure BSI's membership post-Brexit.
---
CIOB Parliamentary Reception launches call for improving quality in the built environment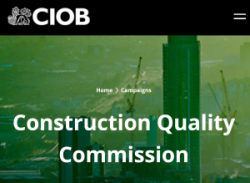 The Chartered Institute of Building's parliamentary reception on 12 Dec launched its report 'Improving Quality in the Built Environment'.
---
Programme to support placemaking in England at local level launched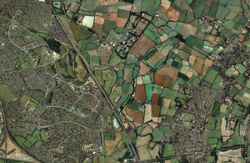 RIBA, Chartered Institute of Housing (CIH), Local Government Association (LGA) and RTPI's 'Future Place' will recognise, reward and encourage high quality placemaking.
---
SPAB awards for new design in historic settings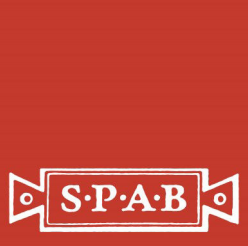 3 young architecture graduates have won the SPAB's, Philip Webb Award, for schemes proving that with imagination and sensitivity you don't need to demolish historic buildings.
---
Dounreay nuclear reactor demolition contract awarded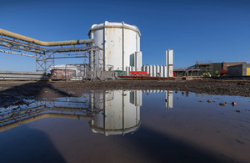 The decommissioning of Dounreay's oldest nuclear reactor in Scotland has taken a major step forward with the award of a multi-million pound demolition contract.
image: Open Government Licence v3.0
---
Civic Voice plans for 2019 - more Conservation Area advocacy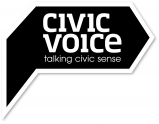 Civic Voice has highlighted how 'hundreds of conservation areas mark their 50th anniversary' in 2019, as it continues its Big Conservation Conversation.
---
Launch of a new strategic framework for heritage science in the UK: 2018-2023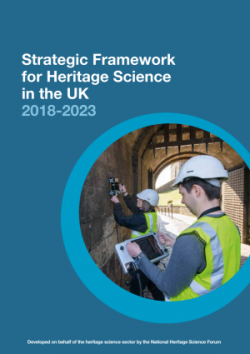 A new strategic framework for heritage science in the UK has been launched.
---
Planning Awards 2019 open - deadline 24 Jan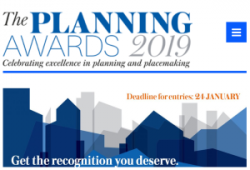 The 2019 Planning Awards have been launched, with categories including an award for 'best use of heritage in placemaking' among 25 linked categories.