Dunmore Pineapple
See the Unusual building design of the week series here.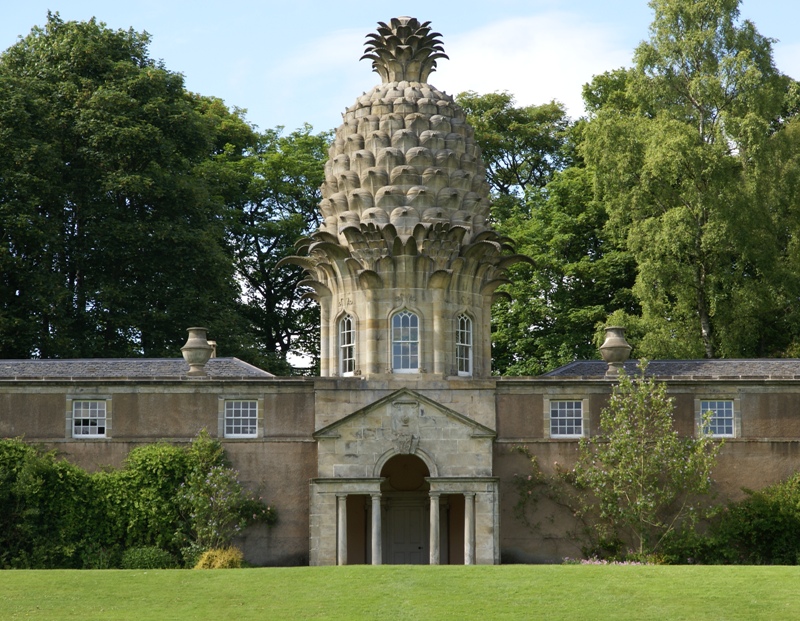 The Dunmore Pineapple is an 18th century summerhouse building with a giant stone pineapple as its central architectural feature. It is located in Dunmore Park, in Stirlingshire, Scotland, and has been described as one of the United Kingdom's greatest follies, and 'the most bizarre building in Scotland'.
The two-storey building contained a hothouse and was built around the time of 1761 by John Murray, the 4th Earl of Dunmore. The hothouse was used, among other things, for growing pineapples which were considered to be exotic fruit that travelers to the Indies and America would bring back as trophies.
The pineapple is around 14 m high and is intricately carved in stone to form an elaborate cupola on top of an octagonal pavilion. Conventional architraves put out shoots and end as stone-shaped 'prickly leaves'. According to its intended purpose as a hothouse, the walls are of double construction with a cavity for the circulation of hot air.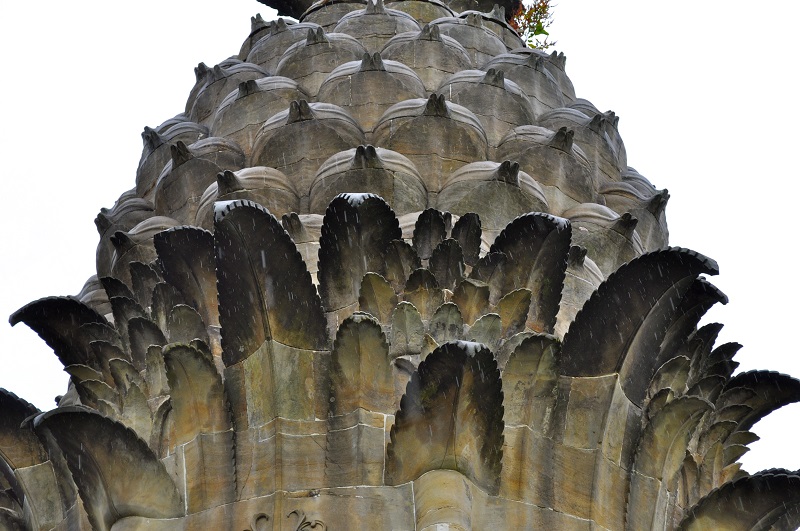 The stones are graded in such a way that water cannot collect anywhere. The base of each leaf is in fact higher than it appears when viewed from below, so that the rainwater drains away easily from the higher parts.
The Dunmore Estate was broken up and sold in 1970. The lot that contained the summerhouse and large walled garden was given to the National Trust for Scotland. They in turn, leased it to the Landmark Trust who set about restoring the building. In 2014, they made the building available to the public as rentable holiday accommodation.
Featured articles and news
IHBC and partners in Belfast on 9 May for retrofit presentation
Preparing for the 2018 IHBC School as IHBC Trustee John Edwards says, 'it's not just retrofit'.
---
IHBC Scotland hosts CPD Day on Metal Roofs on 28 April
This one-day seminar in and around Newhailes will examine good practice in lead jointing, shaping lead on to awkward roofs, slate trimming and laying on metal roofs.
---
Reminder to book for conservation of thatch event on 17 May
Another remarkable day of IHBC-recognised CPD on the 'Conservation of Thatch', is on offer on 17 May, in Peterborough, with fees supported by Historic England.
---
HS2 IHBC opportunity – reminder deadline for registration is 18 April
The IHBC and the Supply Chain team at HS2 (High Speed 2) are inviting IHBC members to an HS2 'Enabling Works Supplier Day' on 3 May at the VOX, Birmingham.
---
IHBC HESPR pick of the tenders
HESPR, the IHBC's heritage business listing, offers members weekly bulletins. Director's top pick this week features the refurbishment of Younger Hall at St Andrew's University.
---
Early bird rates for IHBC 2017 Annual School end 21 April
Rate reductions on 'Early Bird' bookings for the IHBC's 2017 School - 'Transport Infrastructure' - end 21 April so book now for your annual 're-charge' of heritage CPD.
---
Specialist skills shortage generates risk for buildings
A new RICS and YouGov survey warns that historic buildings are at risk due to a restoration skills crisis threatening their future.
---
High Court quashes planning permission for 5 bed home for third time
Northumberland Council has seen its grant of planning permission quashed for a third time, part of a sequence of successful challenges linked to Green Belt and Local Plan policy.
---
£24 million funding boost for Welsh tourism initiative
£24 million will be available for the development and marketing of tourism through the Welsh Government Rural Communities – Rural Development Programme 2014 -2020.

---
Join UNESCO World Heritage Volunteers 2017 campaign - Heritage in our Hands
The campaign looks at the progress madesince 2007 to mobilise youth to preserve and promote World Heritage by reaching out to their peers and their communities.