CIfA IHBC reciprocal taster memberships
This article originally appeared in the IHBC NewsBlogs
---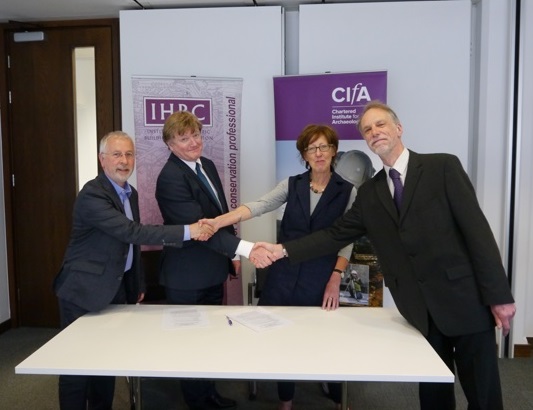 The IHBC and CIfA have announced the first major outcome of the newly signed Memorandum of Understanding (MoU) between the two organisations: free 1-year 'taster' memberships to help new members experience our respective disciplines and support at first hand.
IHBC Chair Mike Brown and CIfA Chair Jan Wills issued a joint statement saying: 'We are absolutely delighted that our new Memorandum of Understanding is already delivering a great new deal for all our members. Our free 1-year reciprocal 'taster' memberships offer just the sort of value, benefit and capacity building our hard-hit heritage sector so badly needs.'
'This innovative initiative will also enhance mutual understanding and respect across our diverse but critical constituencies. It will also extend our collective reach and impact far beyond the usual heritage borders and, hopefully, into the hearts of government and industry.'
CIfA CEO Peter Hinton said: 'Those CIfA members whose work involves or informs built and historic environment conservation are encouraged to seek additional professional recognition for this specialist work by applying for IHBC membership – just as we encourage those conservation specialists whose work involves archaeology to seek accreditation from us.'
IHBC Director Dr Sean O'Reilly said: 'We are very pleased to be able to recommend to all IHBC members whose work involves archaeological practice the generous offer of free CIfA membership for a year so they can experience the discipline and service at first hand and at no cost. And where our members' work involves or informs archaeological practice, we would also encourage them to seek from the CIfA that recognition, status and accreditation.'
For background see the IHBC NewsBlog
IHBC NewsBlog
Conservation Areas go 'Back to the future' at the Royal College of Physicians on 3 Oct as revolutionary historic placeshaping looks ahead to the next 50 years.
---
Join IHBC Yorkshire in Hull Old Town walking tour on 4 Oct
The Yorkshire Branch's walking tour around Hull's Old Town is part of the linked Heritage Trust Network (HTN) Conference on 3-4 October - special rates to IHBC members.
---
HESPR top pick from over £132,000 costed work this week
National Archives support for establishing fundraising charity - though only HESPR members have been notified before the opportunity closed on 22 September.
---
IHBC-ALGAO-HE Local Authority conservation and archaeology staffing stats published
Historic England has issued the latest figures collated by the IHBC and ALGAO which highlights ongoing reductions in capacity even as workload continues to grow.
---
Historic England National Capacity Building Programme 2018-2020 - call for applications
On 25 September applications open for the programme, supporting projects that run for a maximum of 2 years, with funding starting from 1 April 2018.
---
Owner of Kensington Square stripey house gets green light to demolish
The conservation area house that generated its own IHBC ToolBox Guidance Note on the use of S.215 Notices may now be demolished and a new one built in its place.
---
Funding call for projects related to the European Year for Cultural Heritage 2018
Creative Europe Call - offering support for cooperation projects related to EYCH 2018 and targeting projects with a start date between January and September 2018 closes 22 Nov.
---
Britain ratifies Hague convention on protecting treasures in war zones
John Glen, Minister for Arts, Heritage and Tourism has pledged the UK to helping save historic and artistic artefacts under threat in conflict-torn countries.
---
Entries to EAA awards open until 5pm Friday 27th October 2017
Entries to The European Association Awards (EAA) are now open and the deadline for entries is 5pm Friday 27th October 2017.
---
DCLG package of £22.8M – a boost for communities until 2022
Parliamentary copyright images are reproduced with the permission of Parliament
England's DCLG the package of support worth £22.8 million to help communities develop plans to give them a real say in the development of their area.
---
Ministers asked to intervene in Edinburgh luxury hotel dispute
City councillors rejected plans to a build 'six-star' hotel around the Category-A listed Royal High School after public objections - the developers ask Scottish ministers to intervene.