Wrought iron
[edit] What is wrought iron?
Wrought iron is a very low carbon metal made by intensive hand work using small scale production methods. Predominantly, it was manufactured prior to the Patent for the Bessemer process in 1856.
There were numerous methods for producing wrought iron; early iron is often referred to as Charcoal iron, or Bloomery iron, because it was produced in small blooms. In the late 18th century more efficient Puddling furnaces were used to produce Puddled wrought iron. Many other types of production methods were used across the world, all of which produced varying qualities and quantities of iron.
Confusingly, the term 'wrought iron' can also be applied to decorative hand made steel artifacts because wrought means to make by hand (to wrought). However, a more generally accepted description for these hand made steel items is decorative ironwork.
[edit] Identifying wrought iron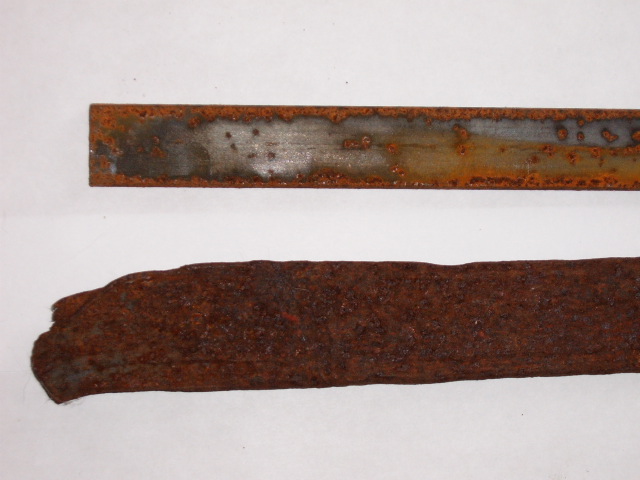 There are four ways in which wrought iron can be identified by using a comparison method:
Microscopic analysis will more accurately determine if the metal is iron or steel.
[edit] The difference in performance and character between wrought iron and steel
Clearly there are visual differences between steel and early wrought iron due to the wood grain effect of the latter. Wrought iron from all periods, and production methods, could take on the same appearance as mild steel if it was repeatedly worked to refine it; furthermore, once painted the visual differences are less apparent to the naked eye.
The structural performance of wrought iron cannot be compared with mild steel, despite the 1938 British Standards (BS 762-1938) because, without reliable records, there is no definitive way of knowing the provenance of the specific wrought iron as found. Analysis from Brunell's iron ship SS Great Britain 1843, by Dr R. Walker in 2002 showed that the mechanical properties were '..considerably poorer than those tolerated for mild steel.'
Corrosion resistance was investigated in 1952 by Chilton and Evans who concluded that even the very best quality wrought iron had not shown '...phenomenally good resistance to corrosion.' earlier investigations by the Hudson Corrosion Committee reported similar findings. There is some evidence that the presence of nickel in the iron ore when smelted, may have an influence over corrosion resistance; ores from Sweden and Greece tended to contain higher levels of nickel in the iron ore (Tylcote 1972) and showed barriers to corrosion.
Methods for cleaning and re-coating wrought iron must first be carefully considered. Aggressive forms of cleaning and inappropriate coatings can contribute to further accelerated corrosion. Cardiff University are examining the effects of cleaning and re-coating http://orca.cf.ac.uk/61280/1/Emmerson%20and%20Watkinson_Metal%202013.pdf
This enquiry should inform decisions regarding the most appropriate methods for the longevity of exposed ironwork.
Corrosion generally takes place at the crevices where the iron is joined. Crevices tend to put stresses on the coating at these junctions causing water to ingress and be trapped, sometimes by the coating itself. Current thinking advises the use of flexible or mobile protective coating to accommodate this expansive action.
In some cases it may be beneficial to control corrosion rather than attempting to stop it. Cardiff University has been contributing to the conservation methods used to preserve Brunel's SS Great Britain using one such method. http://www.cardiff.ac.uk/share/research/projectreports/ssgreatbritain/index.html
[edit] Availability of wrought iron and alternatives for consideration
Wrought iron is still available as recycled iron; the last production of virgin wrought iron from iron ore was in 1974. Good conservation will consider repairs in wrought iron, mild steel, weathering steel (CORTEN), pure iron and other ferrous and non-ferrous metals. The specification should be informed by an experienced professional who can explore all the options and provide good justification for the choice.
The potential for bi-metallic corrosion should always be checked before using dissimilar metals. https://en.wikipedia.org/wiki/Galvanic_corrosion
[edit]
Organisations
For practical assistance and advice the following organisations can be contacted:
Featured articles and news

The IHBC helps UK Civic Trusts to celebrate the 50th anniversary of the introduction of Conservation Areas, with a fund allocation of up to £2500, including a prize of a place at the IHBC's Annual School on offer for the most effective project.
---
IHBC top HESPR tender pick of the week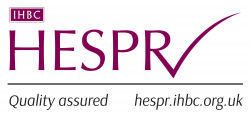 The IHBC's commercial conservation services listing, HESPR – the Historic Environment Service Providers Recognition scheme – offers weekly HESPR Bulletins listing tender opportunities. The Director's top pick for IHBC members this week features Redbridge Borough Council's search for a 'consultant to provide additional guidance to support the Council's evidence base in relation to tall buildings throughout the Borough', with a contract valued at £60,000.
---
IHBC Northern Ireland Branch Annual General Meeting and joint conference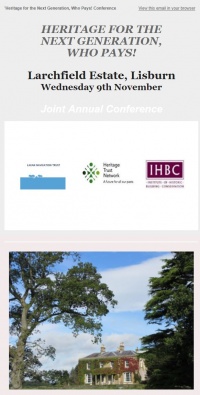 This year the AGM will be held in Lisburn on 9th November, followed by the joint conference 'Heritage for the Next Generation, Who Pays?', organised by the Branch with Lagan Navigation Trust and Heritage Trust Network. Key ministerial and media speakers include Paul Givan MLA, John Sergeant and Joe Mahon.
---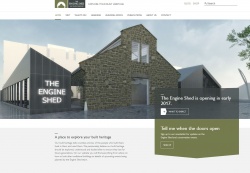 The IHBC has warmly welcomed Historic Environment Scotland's (HES) new website, a 'Place to Explore your Built Heritage'.
---
Fire devastates Bristol Grade II listed Church
Bristol may have lost one of its oldest and most historically important churches as St Michael on the Mount Without adds itself to the long line of listed buildings assailed by fire.
---
Harlow resident prosecuted after failing to knock down unauthorised outbuilding in conservation area
A resident has been fined £1,600 after Harlow Council took him to court for failing to demolish an outbuilding he has built in his garden, as Councillor Danny Purton, Portfolio Holder for Environment there, said: '… People living in a conservation area take pride in maintaining its special character and this development does more harm than good and does nothing to either preserve or enhance the appearance of the area. There are no public benefits to outweigh the harm this causes.'
---
Art history, classical civilisation and archaeology set to disappear at A and AS Level
On 12 October 2016, the AQA exam board announced that it would not be continuing work to develop new AS and A-levels in Archaeology, Classical Civilisation, History of Art and Statistics, and petitions objecting to these plans have been generating lots of signatures.
---
Scotland's first TB sanatorium destroyed by fire
Firefighters worked through the night of 13 October to battle a huge blaze at a former north-east hospital, the derelict Glen O'Dee hospital, Banchory as now news reports have emerged that the Category A listed building, which once featured on the BBC 'Restoration' programme, has been deliberately destroyed by fire.
---
Appeal decision for housing near historic Warwickshire battlefield rejected
An appeal launched relating to housing near the historic battlefield of Edgehill, Stratford-upon-Avon in Warwickshire has been dismissed, with the inspector concluding that the appeal was not in accordance with the development plan and that harm to the character of the surroundings would be likely to occur.
---
Weeping Window open at Caernarfon Castle
The remembrance poppy sculpture 'weeping window' which was initially at the Tower of London now graces another monument, this time in Wales, at Caernarfon Castle.