Wet rot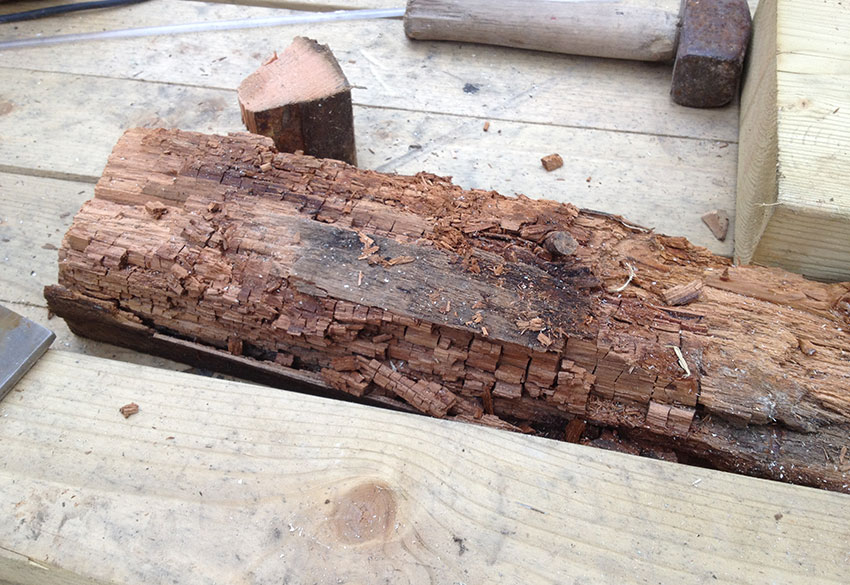 Wet rot is a generic name given to a range of conditions that can affect timber where there is the continual presence of moisture, perhaps caused by leaking pipework, poor ventilation (resulting in condensation), rising or penetrating damp and so on.
Wet rot is more common than dry rot, but generally less problematic. However, if left untreated, it can cause serious structural problems.
Wet rot can be recognised by a damp, musty smell, fungal threads of black or dark blown colour, or large longitudinal cracking with minor lateral cracks. The growth pattern is similar to dry rot but spores will not germinate in dry timber.
Treatment typically involves replacing the affected timber. In straight-forward cases, this may simply involve cutting out and replacing relatively small areas of timber. In some cases however, it may be necessary to remove entire timbers and replace them. Where these are primary structural members in difficult to access areas, this can be a difficult procedure.
It is also very important to tackle the source of moisture and to dry out surrounding areas and to treat surrounding timbers with a timber hardener and preservative so that reoccurrence is prevented.
It may be advisable to obtain a specialist survey if wet rot is suspected.
Featured articles and news
IHBC supports Civic Voice Convention 2016

The IHBC is delighted to be able to support again the annual convention of a key civic partner in England, the Civic Voice, at its forthcoming Convention, on 'Adding Value', in Chester, 21-22 October.
---
Newcastle-Gateshead to host the Great Exhibition of the North
The Exhibition will showcase the great creative, cultural and design sectors in the city and across the whole of the North of England.
---
Former Leeds munitions factory scheduled
A former munitions factory in Leeds has been designated as a scheduled monument.
---
Queensferry Crossing featured in the Guinness World Records
The Scottish Government has announced that the Queensferry Crossing's centre tower deck has been recognised by Guinness World Records as the largest freestanding balanced cantilever in the world.
---
Heritage Lottery Fund projects to create more than 100 jobs
£48 million of funding has been announced by the Heritage Lottery Fund (HLF), creating over 100 jobs.