Retrofit
[edit]
Introduction
Retrofitting means 'providing something with a component or feature not fitted during manufacture or adding something that it did not have when first constructed' (Ref: Retrofit 2050: Critical challenges for urban transitions). It is often used in relation to the installation of new building systems, such as heating systems, but it might also refer to the fabric of a building, for example, retrofitting insulation or double glazing.
Retrofitting has come to prominence in recent years as part of the drive to make buildings more thermal efficient and sustainable. This can help cut carbon emissions, make it cheaper and easier to run buildings, and can contribute to overcoming poor ventilation and damp problems, therefore improving the health of occupants. It can also can increase building adaptability, durability and resiliency.
The Climate Change Act established a target for the UK to reduce its emissions by at least 80% from 1990 levels by 2050. Since 47% of the UK's carbon emissions are generated or influenced by the construction industry, and it is thought that around 2/3rds of the housing we will occupy in 2050 has already been built, retrofitting is vital.
The 2014 study New energy retrofit concept: 'renovation trains' for mass housing', by Ronald Rovers, estimated that 40 million houses in the EU would have to be retrofitted by 2020 if carbon emissions reductions were to stay on track. This, he argued, would require the adoption of mass retrofit techniques, some of which have been piloted in in the Netherlands.
[edit] Retrofit techniques
Retrofitting in this context should involve applying an integrated, whole-building process, however, there are a number of basic techniques that can be used for key elements of a building:
Walls: Cavity wall insulation, internal or external insulation, and cladding of external and internal surfaces.
Roofs: Insulation and ventilation systems.
Floors: Installation of insulation.
Tanks and pipes: Lagging.
Lighting: New controls, occupancy sensors, Light-Emitting Diode (LED) lighting and other low energy technologies.
Boilers: Installation of high-efficiency condensing boilers or micro CHP, new controls, connection to low carbon community heating systems.
Chiller plant improvements: Plant, pumps, piping and controls upgrade.
Controls: Installation of smart controls and building management systems.
Air conditioning: Upgrade, or replace with air or ground source heat pumps or passive cooling.
Renewable energy systems: Installation of photovoltaics, solar thermal heating, passive solar heating, wind energy, wood and organic waste power sourced heating or power plant, micro-hydro power, and so on.
Water conservation: Installation of low-flow equipment such as water fittings, shower heads, dual flush WC's, rainwater harvesting, and so on.
Electricity: Peak saving through thermal energy storage, onsite electricity generation, combined heat and power, and so on.
Advanced metering systems: Smart meters.
[edit] Retrofit in practice
The process of retrofitting involves the careful balancing of different elements and their effects on the overall performance of a building. A change in one part of a building can affect another, and sometimes this is only apparent after irreversible defects have occurred. For example:
Sealing buildings to improve their air-tightness can cause condensation problems.
Internal wall insulation will remove the benefits of thermal mass which may have a detrimental effect on fuel usage.
External wall insulation will prevent the thermal store of heat from solar gain to be utilised within the building.
Poorly installed cavity wall insulation can create cold spots that then have damp problems that are extremely difficult to rectify.
Pre-existing problems can be covered up, and so more difficult to diagnose and rectify.
Some of the most common problems facing retrofit include: under-ventilation, condensation, air leakage, mould issues, rising damp, interstitial condensation, and overheating.
It is very important therefore that these and other risks are understood and managed in a way that is appropriate to each individual project. Standard solutions should not simply be rolled out without proper consideration, and it is vital that care is taken to ensure high quality installation. At each of the four retrofit processes – assessment, design, installation and operation – it is advisable to have 'retrofit watch points' to help avoid problems such as:
Poor management of trades.
Poor integration of trades.
The adoption of inappropriate solutions.
A lack of robustness of detailed design.
Fragmented procurement and delivery (lack of overall responsibility and ownership).
Poor construction sequencing and commissioning.
Inadequate handover and user guidance.
Once a building has been retrofitted, the process of post-occupancy evaluation is important in determining its overall success and ensuring that lessons are learned for future projects. This can be involve monitoring fuel use, occupant surveys, air permeability testing, and thermographic surveys and so on.
[edit]
External references
Featured articles and news
IHBC Annual School Context article reaches Conservation Wiki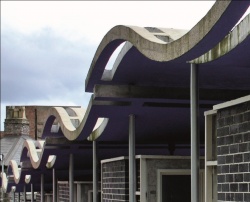 Reports from IHBC's journal Context that covered the IHBC's 2016 Annual School visit to Dudley, which covered both the Tecton work at the Castle as well as regeneration in the town, have been used to shape a new article for IHBC's Conservation Wiki on the modernist work and its conservation.
---
IHBC trustee urges the use of BS7913 to safeguard buildings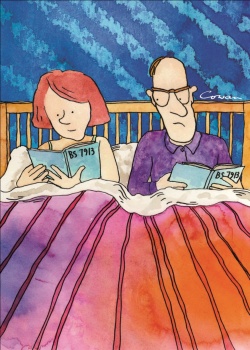 IHBC trustee John Edwards has featured an article in the November issue of the RICS Property Journal where he 'argues that traditional buildings are in need of better treatment and understanding' by the profession.
---
First Green Gas Mill in Britain given consent
A £10 million Green Gas Mill, which produces heating for 4000 houses using green gas from grass, has been granted planning permission by Winchester City Council.
---
Scottish Land Fund leads to community ownership of Eyemouth Listed Building
Eyemouth in the Scottish Borders is the latest community to benefit from funding from the Scottish Land Fund, with an eco-innovation centre being established in the former Town Hall, a 'Category B' Listed Building.
---
Iconic Royal Liver Building for sale
The iconic Grade I (GI) listed Royal Liver Building in Liverpool is to be marketed for sale.
---
Victorian Society lists 2016 Top Ten endangered buildings
The national architectural charity, the Victorian Society (Vic Soc), released its 2016 Top Ten Endangered Buildings list, while Griff Rhys Jones, Victorian Society Vice President, has urged people living near the buildings on the list to 'seize the opportunity' and campaign to save them.
---
The Construction Industry Council launches brand refresh and strapline
The Construction Industry Council (CIC) has launched its brand refresh with a new logo and strapline: BUILT ENVIRONMENT PROFESSIONS TOGETHER
---
Official Farmer Review tells construction industry to modernise
The 'Farmer Review', a report commissioned by the government and carried out by Cast Consultants, has concluded that the construction sector must 'modernise or die', being highly critical in relation to its delivery, innovation, investment and training practices.
---
BBC News features the house that hid a forbidden love
BBC News explores how the structure of a Grade II* listed 1930s home of Gerald Schlesinger and Christopher Tunnard, managed to help keep a secret that would otherwise have criminalised its owners, as its 'LGBTQ' history has now been officially acknowledged in the nations heritage.
---

The IHBC helps UK Civic Trusts to celebrate the 50th anniversary of the introduction of Conservation Areas, with a fund allocation of up to £2500, including a prize of a place at the IHBC's Annual School on offer for the most effective project.