Owen Hatherley - Landscapes of Communism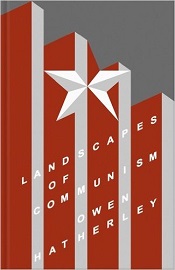 [edit]
Owen Hatherley – 'Landscapes of Communism: A History Through Buildings'
Published by Allen Lane
Read our interview with Owen Hatherley here.
---
Ask what they envisage when confronted with the title 'Landscapes of Communism' and it's safe to assume that unforgiving rows of harsh concrete blocks will be blockading the preconceptions of most people. It is a credit then to Owen Hatherley's guide that these preconceptions are both justified and challenged, allowing for a genuinely interesting exploration of the architecture of Eastern Europe and the powers that inspired it.
Since publishing his polemical book of essays 'Militant Modernism' in 2009, Hatherley has become a strident and unflinching commentator on the built environment and urban planning, lauded by writers such as Will Self and Phillip Pullman.
His second book 'A Guide to the New Ruins of Great Britain' was a fearsome and damning indictment of the hallmarks of New Labour's architectural legacy – all the ill-advised PFI schemes, soulless Enterprise Zones and regeneration projects that proliferated through the country from Manchester to Tyneside to Greenwich. He sought to make sense of the vacuum left by postmodernism in the new millennium, and in so doing spared nothing in his witty and acerbic critique of the endless high rise apartment buildings with their barcode-facades and ubiquitous cladding; buildings that were designed apparently only with their CAD logo or moniker ('Cheesegrater', 'The Pinnacle', etc.) in mind.
With 'Landscapes of Communism' there is a sense of Hatherley's growing maturity as a writer and thinker about place and what both defines and informs it. This could perhaps be due to him stepping away from his comfort zone and onto, literally, foreign territory, but there's also his apparent awareness that real history and real people's experiences are suffused within his chosen subject matter.
Ever since the collapse of the Soviet Union and the 'victory' of Western capitalism as an ideological 'design for life', communism as a concept has become steadily more toxic and confused. In the space of a week, Prime Minister Cameron can deride front bench opposition politicians as 'communists' and also amiably sup a pint of ale while vying to do business with Xi Jinping, leader of the Chinese Communist Party.
Being an unapologetic Marxist, Hatherley spends a brief period of time upfront laying out his political baggage for the reader's inspection so as to not be unduly distracted by any perceived historical bias further down the line. Such precaution is welcome but not entirely necessary, as he offers a very balanced guide to the communist states and societies, never veering towards the slightest reverence.
Hatherley is at his best when describing his tour of the Moscow Metro, the opulent 'palaces for the workers', or exploring the microrayon (housing estate) districts of Kiev, Warsaw, Budapest and Ljubljana. He explains the odd competition to construct TV towers ever taller, the Stalinist monumental structures aiming to symbolize the power of the state, and the sweeping Haussmann-esque boulevards. The biggest surprise of the book comes from learning the extent to which the communist states sought to reconstruct old historical centres that had been devastated by WW2, confounding the common belief that their impact was entirely modernist and transformative.
The only shortcomings of the book arise in what Hatherley chooses to leave out, which are understandable but nonetheless prohibit the book from being a fully comprehensive guide. There is no discussion of Cuban architecture, for instance, and China is only touched upon briefly towards the end, which at any rate could probably inform another 500-page book in and of itself.
One could also understand Hatherley's desire to avoid 'ruins' in favour of aspects of the built environment that are still functional and part of people's everyday experiences, but it's an odd choice not to at least remark upon Chernobyl, the communist city frozen in time by radiation fallout, and which served as a devastating nail in the Soviet Union's coffin. There is also rather too little engagement or interaction with local people who may have served to offer unique perspectives of what the architecture means to them in a post-Communist Europe, and how their day-to-day lived experience is shaped by a built environment that still echoes with the influence of those former powers.
This book is a fascinating examination of the communist impact on Europe's architectural history and Hatherley serves as an intelligent and insightful narrator as we follow him through the city spaces he traverses. Indeed, long may he continue to deconstruct the follies of the built environment with his pen as an erudite wrecking ball.
You can buy 'Landscapes of Communism' here.
[edit]
Find out more
Featured articles and news

The IHBC helps UK Civic Trusts to celebrate the 50th anniversary of the introduction of Conservation Areas, with a fund allocation of up to £2500, including a prize of a place at the IHBC's Annual School on offer for the most effective project.
---
IHBC top HESPR tender pick of the week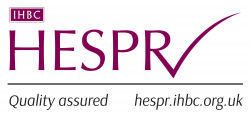 The IHBC's commercial conservation services listing, HESPR – the Historic Environment Service Providers Recognition scheme – offers weekly HESPR Bulletins listing tender opportunities. The Director's top pick for IHBC members this week features Redbridge Borough Council's search for a 'consultant to provide additional guidance to support the Council's evidence base in relation to tall buildings throughout the Borough', with a contract valued at £60,000.
---
IHBC Northern Ireland Branch Annual General Meeting and joint conference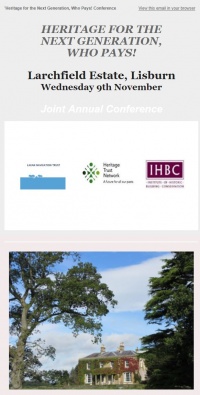 This year the AGM will be held in Lisburn on 9th November, followed by the joint conference 'Heritage for the Next Generation, Who Pays?', organised by the Branch with Lagan Navigation Trust and Heritage Trust Network. Key ministerial and media speakers include Paul Givan MLA, John Sergeant and Joe Mahon.
---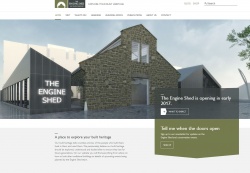 The IHBC has warmly welcomed Historic Environment Scotland's (HES) new website, a 'Place to Explore your Built Heritage'.
---
Fire devastates Bristol Grade II listed Church
Bristol may have lost one of its oldest and most historically important churches as St Michael on the Mount Without adds itself to the long line of listed buildings assailed by fire.
---
Harlow resident prosecuted after failing to knock down unauthorised outbuilding in conservation area
A resident has been fined £1,600 after Harlow Council took him to court for failing to demolish an outbuilding he has built in his garden, as Councillor Danny Purton, Portfolio Holder for Environment there, said: '… People living in a conservation area take pride in maintaining its special character and this development does more harm than good and does nothing to either preserve or enhance the appearance of the area. There are no public benefits to outweigh the harm this causes.'
---
Art history, classical civilisation and archaeology set to disappear at A and AS Level
On 12 October 2016, the AQA exam board announced that it would not be continuing work to develop new AS and A-levels in Archaeology, Classical Civilisation, History of Art and Statistics, and petitions objecting to these plans have been generating lots of signatures.
---
Scotland's first TB sanatorium destroyed by fire
Firefighters worked through the night of 13 October to battle a huge blaze at a former north-east hospital, the derelict Glen O'Dee hospital, Banchory as now news reports have emerged that the Category A listed building, which once featured on the BBC 'Restoration' programme, has been deliberately destroyed by fire.
---
Appeal decision for housing near historic Warwickshire battlefield rejected
An appeal launched relating to housing near the historic battlefield of Edgehill, Stratford-upon-Avon in Warwickshire has been dismissed, with the inspector concluding that the appeal was not in accordance with the development plan and that harm to the character of the surroundings would be likely to occur.
---
Weeping Window open at Caernarfon Castle
The remembrance poppy sculpture 'weeping window' which was initially at the Tower of London now graces another monument, this time in Wales, at Caernarfon Castle.