IHBC launch Conservation Wiki
In a bold move to put building and historic environment conservation at the forefront of digital collaboration, the Institute of Historic Building Conservation (IHBC) has today launched a knowledge-sharing platform for built and historic environment conservation that is the first of its kind.
---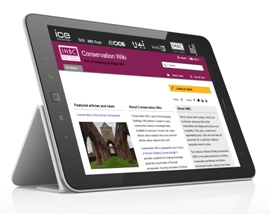 The free-to-use, open-access platform is the first expert portal to be created on Designing Buildings Wiki, the world-leading construction industry knowledge base. Conservation Wiki http://www.designingbuildings.co.uk/wiki/Conservation_wiki is a specially-designed, self-contained site led by the IHBC within Designing Buildings Wiki.
Conservation Wiki has launched with 100 articles already available on subjects ranging from adapting semi-detached dwellings to reduce summer overheating, to VAT Policy for historic buildings. It is also linked to 3,500 articles on Designing Buildings Wiki, making it part of a truly comprehensive resource. The IHBC is now calling on conservation professionals to upload their expertise to help the site expand, making conservation knowledge freely available to everyone.
IHBC Director Dr Sean O'Reilly said, "Conservation Wiki is a collaborative resource that everyone can use and improve. We are calling on anyone with conservation expertise or specialist interest to add to the site to help spread best practice, promote innovation and prevent mistakes. Don't leave your knowledge gathering dust on your hard drive, add it to Conservation Wiki, improve the industry and raise your own profile at the same time."
Dr Gregor Harvie, co-founder of Designing Buildings Wiki said, "The IHBC is leading the way with the creation of Conservation Wiki. We hope it will be the first of many special interest areas on Designing Buildings Wiki. Piggy-backing on our platform gives IHBC access to our established audience of 10,000 users a day, as well as thousands of existing articles."
---
About the IHBC
The Institute of Historic Building Conservation (IHBC) http://www.ihbc.org.uk is the professional body for building conservation practitioners and historic environment experts in the UK. It establishes, develops and maintains the highest standards of conservation practice, to support the effective protection and enhancement of the historic environment, and to promote heritage-led regeneration and access to the historic environment.
---
About Conservation Wiki
Conservation Wiki is operated by the Institute of Historic Building Conservation. It provides a platform for sharing knowledge about the conservation of the built and historic environment, from the restoration of cathedrals to the management of conservation areas and retrofitting period, traditional and modern properties to improve their performance.
Where there are articles on Conservation Wiki that are owned and maintained by the IHBC, they are protected from editing by others, and linked to their original source on the IHBC website. Comments on these articles can be emailed to IHBC's Support Officer Carla Pianese, at support@ihbc.org.uk. Other articles on Conservation Wiki do not necessarily reflect IHBC policy or practice.
Conservation Wiki is a publicly accessible service and the IHBC encourages practitioners to populate it with relevant content as well as to contribute to the development of existing articles. Where appropriate these contributions may be used to inform IHBC policy and practice.
---
About Designing Buildings Wiki
Designing Buildings Wiki http://www.designingbuildings.co.uk is the free, cross-discipline knowledge base for the construction industry. Anyone can create articles about subjects they know and find articles about subjects they don't. It covers everything from site acquisition and design through to construction and facilities management.
Designing Buildings Wiki is supported by; The Institution of Civil Engineers, Rogers Stirk Harbour + Partners, The Chartered Institute of Building, the IHBC, U and I Group PLC, BRE Trust and BSRIA.
Featured articles and news
IHBC supports Civic Voice Convention 2016

The IHBC is delighted to be able to support again the annual convention of a key civic partner in England, the Civic Voice, at its forthcoming Convention, on 'Adding Value', in Chester, 21-22 October.
---
Newcastle-Gateshead to host the Great Exhibition of the North
The Exhibition will showcase the great creative, cultural and design sectors in the city and across the whole of the North of England.
---
Former Leeds munitions factory scheduled
A former munitions factory in Leeds has been designated as a scheduled monument.
---
Queensferry Crossing featured in the Guinness World Records
The Scottish Government has announced that the Queensferry Crossing's centre tower deck has been recognised by Guinness World Records as the largest freestanding balanced cantilever in the world.
---
Heritage Lottery Fund projects to create more than 100 jobs
£48 million of funding has been announced by the Heritage Lottery Fund (HLF), creating over 100 jobs.