IHBC Context 144
Context, the Institute of Historic Building Conservation's membership journal and key heritage sector resource offers contents that span the full spectrum of practices and principles, as well as sector updates: reports, reviews, events, briefings and more.
The May 2016 edition is available to read online.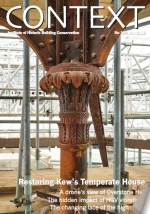 IHBC Director Seán O'Reilly said: 'We'll put this issue online immediately, to help extend conservation awareness as far as possible. That said, the most accessible way learn to about conservation principles, practice and thinking is to explore this issue in hard copy, as an IHBC member.'
'From now on we'll also be using social media posts to help people focus on CPD and accreditation issues too, so there's an easier route to the skills covering our Areas of Competence. Already we give pointers like these in our events postings, but now we are extending this service to Context.'
Context144 includes:
---
Featured articles and news
IHBC supports Civic Voice Convention 2016

The IHBC is delighted to be able to support again the annual convention of a key civic partner in England, the Civic Voice, at its forthcoming Convention, on 'Adding Value', in Chester, 21-22 October.
---
Newcastle-Gateshead to host the Great Exhibition of the North
The Exhibition will showcase the great creative, cultural and design sectors in the city and across the whole of the North of England.
---
Former Leeds munitions factory scheduled
A former munitions factory in Leeds has been designated as a scheduled monument.
---
Queensferry Crossing featured in the Guinness World Records
The Scottish Government has announced that the Queensferry Crossing's centre tower deck has been recognised by Guinness World Records as the largest freestanding balanced cantilever in the world.
---
Heritage Lottery Fund projects to create more than 100 jobs
£48 million of funding has been announced by the Heritage Lottery Fund (HLF), creating over 100 jobs.