Woodworm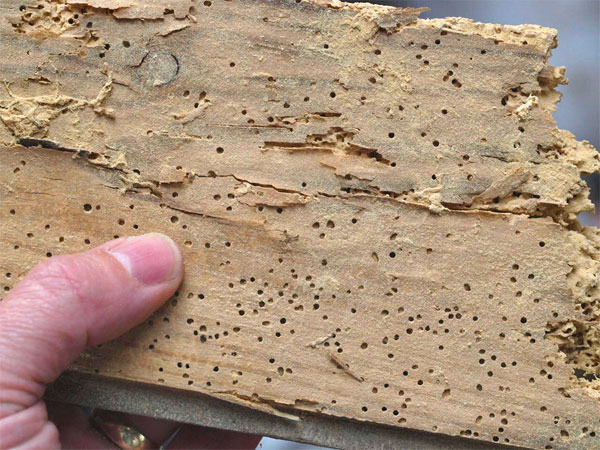 Woodworm infestation of untreated timber is a relatively common problem. The House Longhorn beetle was a particular problem in the UK prior to the introduction of pretreated timber in the 1960s.
The House Longhorn beetle measures up to 25 mm long when mature, and can lay up to 200 eggs on the rough surface of untreated timber. After 2-3 weeks, the larvae emerge and bore into the timber. They can be detected by the powdery deposits known as 'frass' left on the surface and the bore holes of around 3 mm diameter. They are attreacted to damp areas and timber with a high moisture content.
Other woodborer insects include:
Furniture beetle: These are 6-8 mm long and lay 20-50 eggs on soft or hardwoods.
Lyctus powder post beetle: These are 10-15 mm long and lap 70-200 eggs on the sapwood of new hardwood.
Death Watch beetle: Around 7 mm long and lay 40-80 eggs on hardwood. Are a particular problem on oak timbers found in old churches and similar buildings.
Timber can be treated:by:
A water-based boron treatment which can be sprayed or brushed on, or injected as a gel or paste.
Ultraviolet insect killers.
Fumigation or fogging.
Replacing affected wood.
Monitoring and improving conditions to prevent re-infestation.
A specialist survey may be necessary to determine the most appropriate form of treatment.
For more information, see also: Timber preservation and Woodworm and spiders.
Featured articles and news
IHBC Annual School Context article reaches Conservation Wiki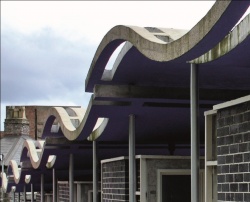 Reports from IHBC's journal Context that covered the IHBC's 2016 Annual School visit to Dudley, which covered both the Tecton work at the Castle as well as regeneration in the town, have been used to shape a new article for IHBC's Conservation Wiki on the modernist work and its conservation.
---
IHBC trustee urges the use of BS7913 to safeguard buildings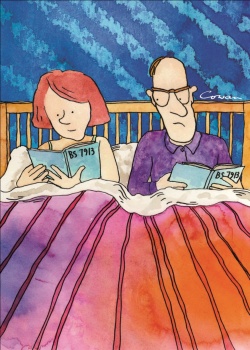 IHBC trustee John Edwards has featured an article in the November issue of the RICS Property Journal where he 'argues that traditional buildings are in need of better treatment and understanding' by the profession.
---
First Green Gas Mill in Britain given consent
A £10 million Green Gas Mill, which produces heating for 4000 houses using green gas from grass, has been granted planning permission by Winchester City Council.
---
Scottish Land Fund leads to community ownership of Eyemouth Listed Building
Eyemouth in the Scottish Borders is the latest community to benefit from funding from the Scottish Land Fund, with an eco-innovation centre being established in the former Town Hall, a 'Category B' Listed Building.
---
Iconic Royal Liver Building for sale
The iconic Grade I (GI) listed Royal Liver Building in Liverpool is to be marketed for sale.
---
Victorian Society lists 2016 Top Ten endangered buildings
The national architectural charity, the Victorian Society (Vic Soc), released its 2016 Top Ten Endangered Buildings list, while Griff Rhys Jones, Victorian Society Vice President, has urged people living near the buildings on the list to 'seize the opportunity' and campaign to save them.
---
The Construction Industry Council launches brand refresh and strapline
The Construction Industry Council (CIC) has launched its brand refresh with a new logo and strapline: BUILT ENVIRONMENT PROFESSIONS TOGETHER
---
Official Farmer Review tells construction industry to modernise
The 'Farmer Review', a report commissioned by the government and carried out by Cast Consultants, has concluded that the construction sector must 'modernise or die', being highly critical in relation to its delivery, innovation, investment and training practices.
---
BBC News features the house that hid a forbidden love
BBC News explores how the structure of a Grade II* listed 1930s home of Gerald Schlesinger and Christopher Tunnard, managed to help keep a secret that would otherwise have criminalised its owners, as its 'LGBTQ' history has now been officially acknowledged in the nations heritage.
---

The IHBC helps UK Civic Trusts to celebrate the 50th anniversary of the introduction of Conservation Areas, with a fund allocation of up to £2500, including a prize of a place at the IHBC's Annual School on offer for the most effective project.