Spanish Colonial revival style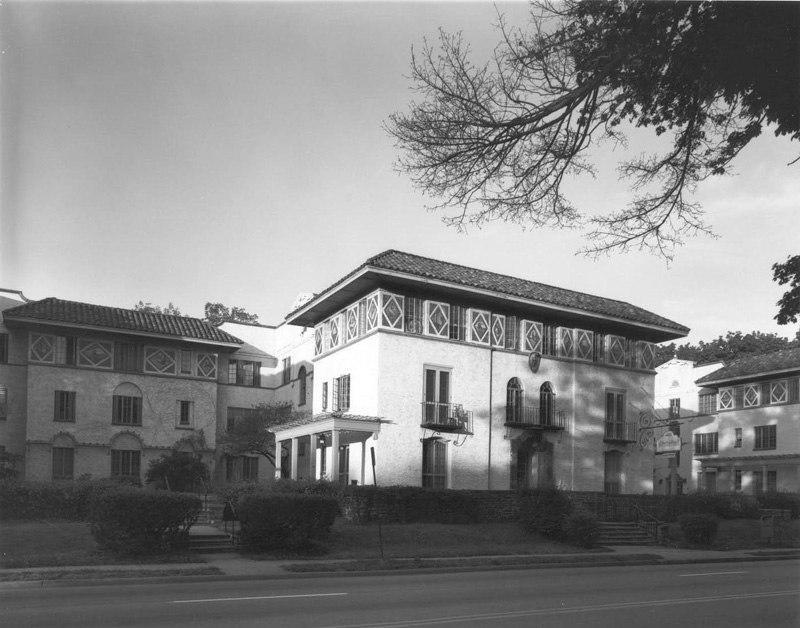 The Spanish Colonial Revival Style, also known as the Spanish Eclectic style, is a remnant of the traditional Spanish architectural themes seen in Spain's early American colonial settlements.
The traditional elements like clay tile roofs, round arch openings, and carved wooden doors follow the form of the early Spanish missions and are very distinctive. Other ornate decorative features draw from later periods of Spanish architecture and show the influence of Moorish, Byzantine, Gothic, or Renaissance design.
This revival style became popular in the early 20th century after the Panama-California Exposition was held in San Diego in 1915. Exotic-themed architectural revivals (Egyptian, Moorish, Dutch Colonial, Swiss Chalet) were popular throughout the country in the period from 1920 to 1940.
This style was commonly used for houses, mansions, apartment buildings, institutional buildings and churches.
The most common identifiable features of the style include:
Low-pitched, clay tile roof.
Stucco exterior walls.
Elaborately carved doors.
Decorative window grills of wood or iron.
Spiral columns.
Multi-paned windows.
Balconies or terraces.
Curvilinear gable.
This article was written by PHMC.
--Pennsylvania Historical and Museum Commission
[edit]
External references
Featured articles and news
IHBC supports Civic Voice Convention 2016

The IHBC is delighted to be able to support again the annual convention of a key civic partner in England, the Civic Voice, at its forthcoming Convention, on 'Adding Value', in Chester, 21-22 October.
---
Newcastle-Gateshead to host the Great Exhibition of the North
The Exhibition will showcase the great creative, cultural and design sectors in the city and across the whole of the North of England.
---
Former Leeds munitions factory scheduled
A former munitions factory in Leeds has been designated as a scheduled monument.
---
Queensferry Crossing featured in the Guinness World Records
The Scottish Government has announced that the Queensferry Crossing's centre tower deck has been recognised by Guinness World Records as the largest freestanding balanced cantilever in the world.
---
Heritage Lottery Fund projects to create more than 100 jobs
£48 million of funding has been announced by the Heritage Lottery Fund (HLF), creating over 100 jobs.