Restoring Charles Drake's concrete house
This article originally appeared in Context 130, published by The Institute of Historic Building Conservation in July 2013. It was written by Paul Latham.
---
Charles Drake worked as a manager for Joseph Tall, who patented a standardised method of forming concrete walls using timber shuttering. In 1868 Drake, aware of the commercial possibilities of using glazed iron shuttering, set up a rival business and patented his Concrete Building Apparatus. The use of flanged plates of iron, enamelled or glazed on the side facing the wall, and slotted wrought-iron vertical channels enabled continuous vertical casting of a concrete wall, exactly the same principle as modern slip-form concrete construction today.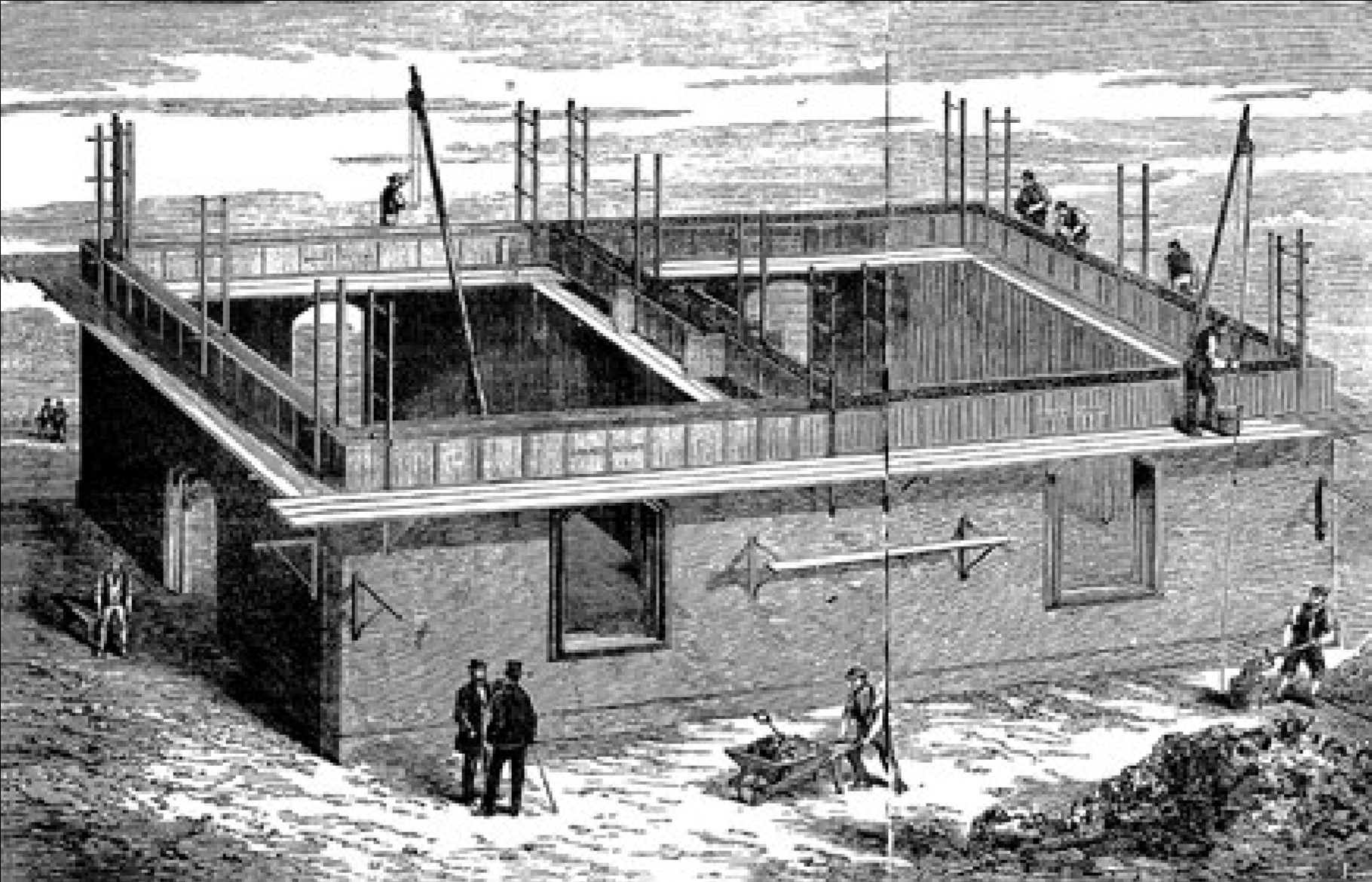 [Image: Drake's Concrete Building Apparatus]
Drake had extensively experimented with different forms of mass concrete for use in his apparatus. His mix consisted of Portland cement mixed one part to nine with cheap aggregates such as gravel, colliery slag, broken stones, broken tiles, fired clay nodules or chimney cinders. No sand fines were used. About a third of the mix consisted of air void. The material possessed exceptional thermal, fire and vermin-proof properties, and had the advantage that it could be erected rapidly and cheaply using unskilled labour. Analysis of the material at Lordship Lane revealed that it consisted of some 50 per cent burnt clay nodules, 30 per cent void and the rest a coarse, carbonated Portland cement. It required cement rendering to exclude dampness.
Drake is credited with working with a number of notable architects, including FP Cockerell at Down Hall in Harlow and GE Street at the Masters House, Marlborough College. But despite cost savings of 50 per cent over traditional brick construction, Drake's Concrete Building Apparatus was not to revolutionise the way buildings were built as he had hoped. He met fierce resistance from the mainstream architectural establishment, who saw concrete as the product of the machine, and therefore abhorrent to the burgeoning renaissance in the decorative arts and the role of the craftsman under the influence of Ruskin and the aesthetic movement in the latter half of the 19th century.
Number 549 Lordship Lane was Drake's own house, built no doubt as a show-piece for his new system. To court wider acceptability for his invention, he chose a conservative gothic style. The house survives today as testament to the giant leap forward in the standardisation of building production which the architectural establishment was able to absorb into architectural expression only during the next century in the modern movement. Drake seems to have been aware of the portents. In a prophetic speech to the Civil and Mechanical Engineers Society in 1874 he concluded by saying: 'Much has been written and said lately about the demand for a new style of architecture. May I suggest that this may be found in studying the right architectural treatment of concrete buildings?' But the special significance of Drake's villa is as a show home produced by a leading Victorian technologist to display the technical innovation of its construction.
[Left: Drake's house in the 1920s.]
[Right: Visual anomalies (due to previous structural trauma) have been treated as part of the story that the concrete house had to tell. They have been left only lightly patinated with sooty water so as not to completely hide the restorers' surgical efforts.]
Ultimately, Drake's patent was to lead him into legal disputes with Tall and his partner Reid. His company manufactured and laid claim to sales of his Concrete Building Apparatus to 'all parts of the United Kingdom, South Africa and India'. But he quickly over-extended himself and ran into financial difficulties. Drake himself suffered ill health, apparently being forced to sell his house in 1876, only three years after its construction.
[Left: At the beginning of the project the house was a ruined shell. The porch, east bay window and half the roof had collapsed.]
[Right: The south window bay was recast.]
When we commenced the project the house was a ruined shell. Only the outside concrete walls survived and these were open to the elements. The porch, east bay window and half the roof had collapsed. The south bay window was detached and leaning outwards. A large section of wall in the north-west corner had been pulled away, leaving a tall concrete chimney precariously unsupported over three storeys. Internal floors and most windows and doors had been stolen. Fortuitously, Drake's system proved able to outlast a brick house that would have collapsed under similar ill-treatment. Despite numerous cracks and deep cuts deliberately made into external walls, the unreinforced concrete house refused to collapse. The building, which was listed Grade II and is on the Heritage At Risk Register, was in a parlous state and in urgent need of repair.
A partnership of Southwark Council, London-wide building preservation trust Heritage of London Trust Operations (HOLTOP) and a local housing association came together at the instigation of local campaigners and the council to save the building. The council was successful in a compulsory purchase order with a back-to-back transfer to HOLTOP, and an agreed sale after conservation and repair to Hexagon Housing Association, creating five affordable flats. The creation of rented accommodation qualified for grant support from the London Development Agency.
To begin with, our job as conservation architects was archaeological. Many of the building's elaborate gothic window mouldings and the collapsed porch were buried and in pieces. The site was carefully cleared and excavated by hand, and all original fabric was catalogued and set aside.
Most of the concrete staircase had been destroyed in an air raid in 1940 and poorly repaired. To avoid conjectural repair and further damage to surviving internal concrete supporting walls, archaeological records were used to recreate an 1870s timber staircase with turned timber balustrading.
[Left: The numerous stitch repairs dramatically illustrate the many fractures that were repaired.]
[Right: The porch was reconstructed after 11 separate pieces were dug up from the garden.]
For the window mouldings, instead of traditional lime stucco, Drake used an unusual mixture of one part Portland cement probably gauged with one part hydraulic lime for workability and six parts mixed silica sand, creating an extremely dense, hard, cement-based material. Original mouldings had been formed on site as Drake's system evidently could not standardise the production of Gothic window heads, which had to rely on the traditional skills of the craftsman due to their shape and slight variations in window widths produced by his apparatus. Analysis of the surface pebbledash revealed that graded chert pebbles had been thrown on to the wet binder then lightly pressed into the surface, giving an attractive, warm 'pebblestone' appearance.
It was agreed that we could not begin the process of restoring buried pieces of mouldings to the correct places because of the dangerous condition of the structure. After much discussion with contractors and conservation engineers the Morton Partnership, we determined that the safest approach would be to secure the surviving concrete walls by stitching together all the cracks with stainless steel needles set in resin to create a stable box, and then to underpin the entire house. The precarious north-west corner was carefully cut away to allow re-casting a new section of wall using the nearest match to the original no-fines concrete, modern Lytag lightweight concrete. Missing window bays were cast in the same material, recovered pieces of window moulding being fixed in their original places. These preliminary works allowed timber floors to be safely re-inserted and the roof repaired to tie the structure together.
One section of the ruins we could piece together was the porch, which was recovered from buried remains in 11 separate pieces. The attractive fleur-de-lis clay ridge tiles were hand made to a special mould. The numerous stitch repairs dramatically illustrate the many fractures that were repaired. We treated these visual anomalies (which were due to previous structural trauma) as part of the story that the concrete house had to tell, and they were left only lightly patinated with sooty water so as not to completely hide our surgical efforts. Missing sections of moulded window surrounds were formed in situ replicating the original Portland cement:lime:silver sand mix by our specialists Rominar.
One of the advantages of conserving a Victorian building is the survival of original catalogues and other archival material. An early 20th century photograph recorded the fashionable 'aesthetic' foliate design of front railings, no doubt included to curry favour with the supporters of Ruskin. We discovered the model in MacFarlane's 19th castings catalogue, helpfully reprinted by Historic Scotland. The railings were reproduced in cast iron from a special mould. Repairs to the damaged gothic iron bell pull and missing door furniture followed Archibald Kenrick's 1876 catalogue.
The only evidence we had for the garden was an early photograph showing curving perimeter gravel paths and a central bed laid to lawn. This, together with the original name of the house, 'The Ferns' gave us a clue that Drake's garden had followed William Robinson's 'Wild Garden' concept, which was fashionable by 1870. The garden designer, Allen Scott Landscape Architecture, adopted the theme using plants and tree varieties introduced from the late 19th century. We mimicked the curving gravel pathways of a wild garden, avoiding the hard lines and municipal appearance of concrete curbs by using partially buried timber railway sleepers, cut and mitred into curves, to support reinforced gravel parking areas.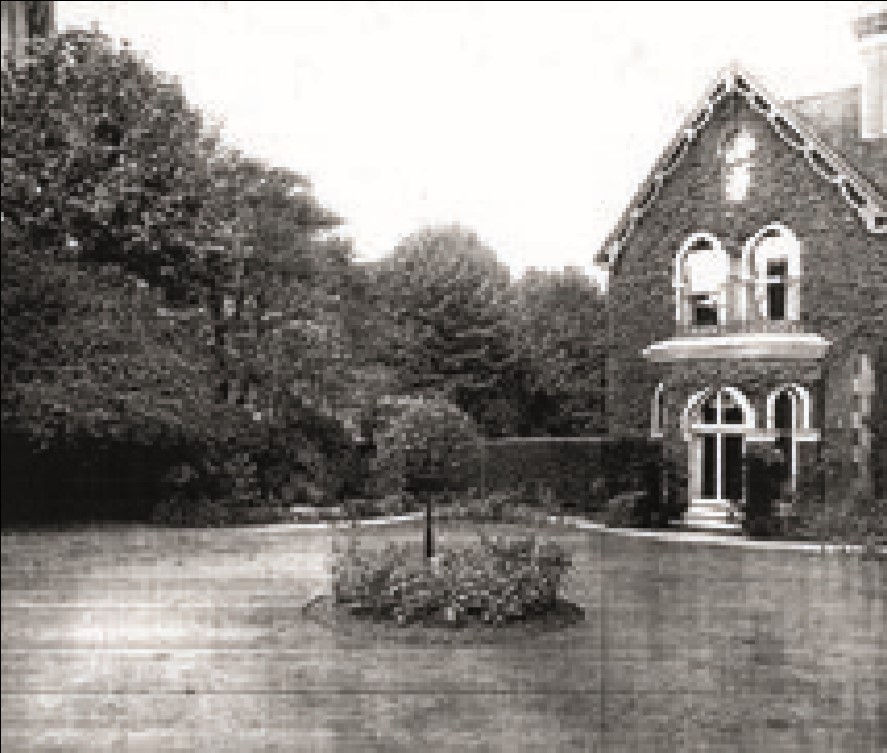 [Image: An early photograph of the garden]
In the process of bringing Drake's ruined concrete house back to use, we have learnt and documented how Drake constructed his innovative show house. We joined with him in the thoroughly modern excitement of building using unusual techniques and materials, working within the established gothic style with 'aesthetic' embellishments, to sell to a sceptical 19th century architectural establishment.
The finished project has demonstrated to us the driving force and influence of Charles Drake, a technological innovator working 50 years ahead of his time in a wholly modern material, concrete, in an era in which the architectural expression of material was still only a matter of historical style. The project has also provided an exemplar for conservation officers on what can be achieved by a cooperative approach using local authority compulsory purchase powers, working back-to-back with a building preservation trust, with an end sale to a local housing association.
---
Paul Latham is director of the Regeneration Practice.
--Institute of Historic Building Conservation
Featured articles and news

The IHBC helps UK Civic Trusts to celebrate the 50th anniversary of the introduction of Conservation Areas, with a fund allocation of up to £2500, including a prize of a place at the IHBC's Annual School on offer for the most effective project.
---
IHBC top HESPR tender pick of the week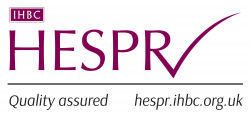 The IHBC's commercial conservation services listing, HESPR – the Historic Environment Service Providers Recognition scheme – offers weekly HESPR Bulletins listing tender opportunities. The Director's top pick for IHBC members this week features Redbridge Borough Council's search for a 'consultant to provide additional guidance to support the Council's evidence base in relation to tall buildings throughout the Borough', with a contract valued at £60,000.
---
IHBC Northern Ireland Branch Annual General Meeting and joint conference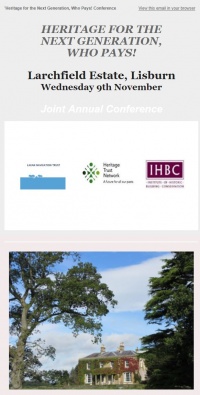 This year the AGM will be held in Lisburn on 9th November, followed by the joint conference 'Heritage for the Next Generation, Who Pays?', organised by the Branch with Lagan Navigation Trust and Heritage Trust Network. Key ministerial and media speakers include Paul Givan MLA, John Sergeant and Joe Mahon.
---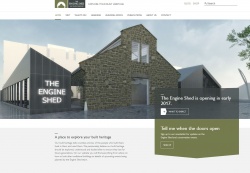 The IHBC has warmly welcomed Historic Environment Scotland's (HES) new website, a 'Place to Explore your Built Heritage'.
---
Fire devastates Bristol Grade II listed Church
Bristol may have lost one of its oldest and most historically important churches as St Michael on the Mount Without adds itself to the long line of listed buildings assailed by fire.
---
Harlow resident prosecuted after failing to knock down unauthorised outbuilding in conservation area
A resident has been fined £1,600 after Harlow Council took him to court for failing to demolish an outbuilding he has built in his garden, as Councillor Danny Purton, Portfolio Holder for Environment there, said: '… People living in a conservation area take pride in maintaining its special character and this development does more harm than good and does nothing to either preserve or enhance the appearance of the area. There are no public benefits to outweigh the harm this causes.'
---
Art history, classical civilisation and archaeology set to disappear at A and AS Level
On 12 October 2016, the AQA exam board announced that it would not be continuing work to develop new AS and A-levels in Archaeology, Classical Civilisation, History of Art and Statistics, and petitions objecting to these plans have been generating lots of signatures.
---
Scotland's first TB sanatorium destroyed by fire
Firefighters worked through the night of 13 October to battle a huge blaze at a former north-east hospital, the derelict Glen O'Dee hospital, Banchory as now news reports have emerged that the Category A listed building, which once featured on the BBC 'Restoration' programme, has been deliberately destroyed by fire.
---
Appeal decision for housing near historic Warwickshire battlefield rejected
An appeal launched relating to housing near the historic battlefield of Edgehill, Stratford-upon-Avon in Warwickshire has been dismissed, with the inspector concluding that the appeal was not in accordance with the development plan and that harm to the character of the surroundings would be likely to occur.
---
Weeping Window open at Caernarfon Castle
The remembrance poppy sculpture 'weeping window' which was initially at the Tower of London now graces another monument, this time in Wales, at Caernarfon Castle.